Chat about Harry Potter during a marathon overnight reading session with Karl Gehring starting after midnight
Journal-World artist Karl Gehring will have his "Harry Potter" book at midnight - will you? If you're one of the legions of Lawrence residents who plan to start devouring the book as soon as it's in your hands, join Gehring here online at LJWorld.com as he chats his way a marathon reading of J.K. Rowling's latest masterpiece. After every chapter, Gehring will write his impressions, and he'll interact with other late-night Potterphiles about the end of the franchise.
Join the chat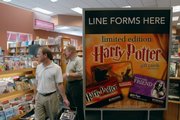 -->
Harry Potter fans have plenty of places in Lawrence to celebrate the release of "Harry Potter and the Deathly Hallows," the final book in J.K. Rowling's series about a wizard and his adventures.
The book's official release is 12:01 a.m. Saturday.
Anna Taylor, 12, says she will be going to Hastings, 1900 W. 23rd St., for a release party that begins at 6 p.m. She will participate in a costume contest by dressing as Hermione Granger, one of the main characters.
"I'm going to be Hermione when she was turned into a cat in the second book," she said.
She's also bringing a broom for a Quidditch match.
The Lawrence Public Library is hosting a Harry Potter lock-in on Saturday night. Patrons of the young adult section such as Chloe Gilligan, 11, will show up at 5 p.m. Saturday and stay until 9 a.m. Sunday. The event already is filled up with 100 participants.
To prepare for the final book, Chloe has been rereading the other six. She said she is excited to talk about the book with other children and to make her own wand, one of the scheduled activities.
The series has attracted readers of all ages.
"I am going to savor the fact that this is the last one, and I want to know what happens to Snape," said Camille Lechliter, who works in the cataloging department for the Lawrence Public Library.
When she's done, which she estimates won't take much longer than a day or two, she'll reread it for an adult discussion Aug. 8 at the Topeka and Shawnee County Public Library.
"I will reread the book so I can really argue my case," she said.
She also will keep up on the Harry Potter buzz by visiting Rowling's Web site, as well as mugglenet.com and www.hp-lexicon.org.
Lechliter will be dressed as a Harry Potter character at the lock-in.
The library received 33 copies of the book, and they will be available Saturday morning for people who have reserved it. So far, 116 reservations have been made.
Books will be sold at the following locations at 12:01 a.m. Saturday, in addition to these festivities:
¢ Borders, 700 N.H., is throwing the "Grand Hallows Ball" starting at 9 p.m. today. Events include a costume contest, crowning of king and queen, trivia contests and a potions class.
¢ The Raven Bookstore, 6 E. Seventh St., will stay open until early Saturday morning. Staff will be dressed as Harry Potter characters.
¢ Hy-Vee, 3504 Clinton Parkway, is having a pizza party from 8 p.m. Friday to 12:01 a.m. Saturday. It's an all-you-can-eat buffet for $5. At 8:30 p.m., "Harry Potter and the Goblet of Fire" will be played on a big screen. There will be trivia breaks. At 11:45 p.m. there will be a costume contest. The winner will receive the "Deathly Hallows" book.
¢ Hy-Vee, 4000 W. Sixth St., will sell books.
¢ Dillons, 4701 W. Sixth St., will give away cupcakes and have a drawing for a free book. The winner will be announced at 12:01 a.m. Saturday. The winner of a guessing game will receive a jar of gummy worms. Those standing in line can answer trivia questions.
¢ Dillons, 3800 W. Sixth St., will have games from 9 p.m. to midnight. Starbucks will extend its hours to 1 a.m. Saturday, and employees will be dressed in Harry Potter costumes.
¢ Dillons, 1015 W. 23rd St., will have a cake walk every 30 minutes between 9 p.m. Friday and 1 a.m. Saturday. There will be stations to construct hats and wands.
Copyright 2018 The Lawrence Journal-World. All rights reserved. This material may not be published, broadcast, rewritten or redistributed. We strive to uphold our values for every story published.