While perusing deals during Thursday's downtown Lawrence Sidewalk Sale, shoppers might want to meander farther south on Massachusetts Street, where they may land a piece of the city's history at a bargain price.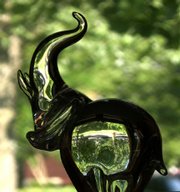 A three-day public estate sale starts Thursday at the historic Castle Tea Room, 1307 Mass., where thousands of items will be sold to benefit restoration of the building.
"There's something for everyone," said Suzie Taylor-Meadows, historian of the Libuse Kriz-Fiorito Historical Foundation, which was established after the 2004 death of the building's owner, "Libby" Kriz-Fiorito.
Three floors of the castle contain items for sale such as paintings, jewelry, tools, furniture and period clothing. Prices range from a 25-cent unopened tracing wheel to a $1,000 gold necklace.
And because Kriz-Fiorito opened the Castle Tea Room as a restaurant in 1947, there are a lot of dishes - more than 70 boxes of various sets. Pieces can be purchased individually or by the box. For example, a box of 24 red goblets costs $67.50, or they're $4.75 by the glass. There are lots of pans, cooking utensils, silverware and knives.
"We have some very expensive things," said John Hughes, estate sale manager. Those include pieces of Steuben glassware, ranging from a $900 elephant to a $75 small apple.
Some unique items include a soda fountain table and chairs, a huge safe, an old-fashioned ironing table and a round table that fits together like a sliced pie. Among the offbeat items: two locks of hair or a light brown hat with buttons sewn all over it, both priced at $1.
A former employee said the sale items reflected the character of Kriz-Fiorito, who was strong, generous, funny and frugal.
Peggy Shopen, of Lawrence, recalled working eight years in the building, where she did everything from wash dishes to wait tables. Shopen was among people allowed to shop early. She bought a couch and some chairs Tuesday. She said the couch had been in the sitting room of the Castle Tea Room, which is on the National Register of Historic Places.
"You feel the history when you walk around this house," Shopen said. "It's pretty cool."
The historical foundation will use proceeds to restore, renovate and maintain the building - something Kriz-Fiorito requested in her will.
"She willed that it would continue to be preserved," said Craig Patterson, a member of the foundation's board of directors. "The board is responding to those people who had many good experiences throughout her career of 60 years.
"We are going to allow people to use the venue and work with community resources - companies, caterers, whatever - to basically fashion events in that venue, which will become memorable for them, from brats, buns and beans all the way to haute cuisine."
Patterson said he expected construction to begin next month and the Castle Tea Room to reopen in late 2008.
Copyright 2018 The Lawrence Journal-World. All rights reserved. This material may not be published, broadcast, rewritten or redistributed. We strive to uphold our values for every story published.