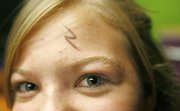 As if Harry Potter didn't have enough to worry about, his frequent and debilitating headaches have gone undiagnosed throughout six books. Until now, that is.
Thanks to the New England Center for Headache in Stamford, Conn., Harry's afflictions get full examination in a paper published in the June issue of Headache: The Journal of Head and Face Pain. The three-member team behind the study investigated the young wizard's headaches as they have progressed from the time he was 11 years old to 17.
Their diagnosis? "Probable migraine."
The research was initiated by Fred Sheftell, the founder and director of the center. Senior author of the paper is Potter fan Hallie Thomas, a recent high school graduate. Timothy J. Steiner, headache specialist at Imperial College of London, also contributed to the study.
Sheftell says that 5 percent to 6 percent of adolescents suffer migraine headaches and that he thought the Harry Potter books would be a good way to educate people on the subject.
"I'm a great fan of the series," he says. "I think it's a tremendous series for kids and adolescents."
The researchers compared Harry's headaches with those described in the second edition of International Classification of Headache Disorder, or ICHD-II, commonly used by Muggle (nonwizard) doctors.
As it turns out, Harry's episodes come pretty close to classic migraines. Stabbing pains in the trigeminal nerve? Check. Headaches began around age 11? Check. Also, some of the headaches have been so severe as to render him temporarily dysfunctional.
"And his headaches were on one side - an important feature of migraine," Sheftell says, adding that they are near Harry's lightning-bolt-shaped scar.
His headaches, though, differ from the classic diagnosis, because they last only a few minutes. They are also triggered by proximity to Lord Voldemort, another feature not listed in the ICHD-II.
Thomas, 17, was brought onto the research team through her mother, a longtime patient of Sheftell. She has read the Potter books "three or four times" each, saw the new movie over the weekend and plans to stand in line for the seventh book this week.
"Right now, I am Harry Potter-crazed," she says.
Thomas knew Sheftell was a kindred soul when she saw a Hogwarts poster on his office wall and a broomstick in the corner labeled "Nimbus 2000."
Sheftell gave her the job of identifying each case of Harry's headaches in the six books so far. She counted 11 total. But even for a Potter obsessive, it's no easy task. Combined with the workload of her junior year of high school, it took her a few months.
Being named senior author of a medical research paper when you're 17 is impressive, but Thomas isn't planning on a life in medicine. This September, she'll attend Bryant University in Smithfield, R.I., where she'll major in actuarial mathematics.
Sheftell cops to a few flaws in the study. Because little is known of Harry's birth parents' medical history, and a lack of available wizard data, researchers had to rely on Muggle methodology.
What's important, he says, is that sufferers know that they can treat their headaches.
"Headache need not be a curse for Muggles or wizards," the researchers conclude.
Copyright 2018 The Lawrence Journal-World. All rights reserved. This material may not be published, broadcast, rewritten or redistributed. We strive to uphold our values for every story published.