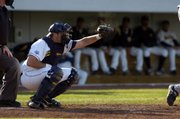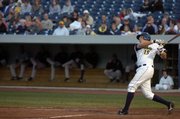 Lawrence High product Curtis Ledbetter has seen a lot during his three years of professional baseball.
From stepping over teammates sound asleep on the floor during grueling, 10-hour bus rides to staying in hotels he wouldn't stay in on vacation, the former all-Big 12 Conference standout has chalked up his minor-league experiences to paying his dues in his quest to make it as a big-league ballplayer.
"You gotta do what you gotta do to get through the bus rides," Ledbetter said. "It's a tough haul, it's a long haul, but when it comes down to it it's still baseball."
Drafted in the 18th round of the 2005 amateur baseball draft by the Seattle Mariners, the former University of Nebraska star has bounced around the minor leagues since leaving college and currently is in Traverse City, Mich., playing in the independent Frontier League for the Traverse City Beach Bums.
Playing for a team known as the bums is a gross misrepresentation of Ledbetter, a player who prides himself on hard work and a no-nonsense approach to the game.
"The thing I remember most about Curtis is when we would finish practicing, he would go out to Sport-2-Sport to hit for another hour or two," said David Petry, Ledbetter's coach at LHS. "It's hard to find that kind of work ethic in kids - especially in high school. It's kind of cliche, but when you talk about guys that are the first to get to practice and the last to leave, Curtis fits that mold. It's all business with him."
Now that the business of baseball is a vital aspect in the career of the starting catcher on Lawrence's state championship team of 2000, he's still enjoying the game and is back on the fast track to returning to the affiliated minor leagues.
Last week, Ledbetter took part in the Frontier League All-Star Game in Florence, Ky. Although his North Division squad lost to the South, 11-3, Ledbetter was 1-for-2 with a double and a run scored. It was a game that one day could go down as the turning point in Ledbetter's pro career.
"It was an honor to be selected as an all-star in the Frontier League," he said. "It was something I was shooting for and something I needed to prove I still had it."
His first-half numbers showed that. Ledbetter led the Beach Bums in home runs, with four, and was second on the team in batting average (.306) and RBIs (30). He appeared in 44 of the team's 46 games during the first half of the season and has played his natural catcher position most of the time. Even though Ledbetter has spent just a couple of months near the shores of Lake Michigan, Beach Bums manager Jon Cahill already has seen something special in him.
"He has the qualities that any affiliated team is looking for," Cahill said. "He just needs to get better at them. But the one thing he does well that makes him unique is hit the ball to all fields. He has just as much power to left field as he does to right."
Ledbetter's tour through professional sports' most underappreciated circuit has not been all happiness.
His first stop with the Mariners' Gulf Coast League team was a breeze. He hit .311 with four home runs and nine doubles in 122 at-bats that season and quickly was promoted to A-ball, joining the Wisconsin Rattlers of the Midwest League. However, a broken hand during spring training forced him to the bench for six weeks, and he never recovered. He finished his second season with a .247 average and four home runs in 174 at-bats.
"That's kind of a no-excuses thing because it's all on me," he said. "But that was a bad break, and my numbers weren't where they could've been - where they should've been."
A strong finish - a .321 average and three home runs in the team's final 18 games - earned Ledbetter an invitation to Rattlers' spring training this year, but the team released him on the second-to-last day of the preseason camp.
"That's a horrible time to be released," Ledbetter said. "Because, at that point, everyone's rosters are full."
Out of baseball for the first time since childhood, Ledbetter immediately made two phone calls - one to his agent, and one to his father, Calvin.
"Those were tough calls to make," he said, "but calls that had to be made. I knew I wanted to keep playing. It was just a matter of finding the right fit for me."
A day later, Traverse City called and, after weighing his options, Ledbetter signed a contract to join the Beach Bums. Since signing, he has been more selfish than ever.
"Pro baseball is a lot more individual," he said. "You have to go out and take care of your business because it's your job. It's not a walk in the park anymore. The pro game is completely different than what people see it as. Coming up through the minor leagues is a big wake-up call."
It's also a lot of fun.
Ledbetter said he and his teammates often get a kick out of the way minor-league baseball is portrayed in Hollywood. Movies such as "Bull Durham" and "Summer Catch" strike a chord with his crew because, as Ledbetter says, "We've lived it."
And that's the plan for years to come. Although Ledbetter hopes one day to get his shot at the big time, he's fine crafting his career in the minors for now. He plans to finish strong in Traverse City and catch on with another major-league organization next season.
"My goal has always been to make it to the big-league level," Ledbetter said. "I've had a couple of setbacks here, but hopefully I'll have an opportunity to get picked back up and move up the ranks a little bit. If it doesn't happen, it doesn't happen. But I'll always know that I did work hard for it and that I put everything I had into the game of baseball."
Those who know him expect nothing less.
"(Making it to the major leagues) has always been a top priority of his," Petry said. "It wasn't just a dream, he believed he could do it and he understands what it takes to make it. With his work ethic and his ability, Curtis has a shot to be around the game for a long time."
Copyright 2018 The Lawrence Journal-World. All rights reserved. This material may not be published, broadcast, rewritten or redistributed. We strive to uphold our values for every story published.