Audio Slideshow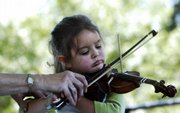 Young violinists
Violinists of the Lawrence Talent Education program gathered at the South Park Gazebo on Friday for a recital.
An audience that doesn't move or give feedback can make small children feel more comfortable when they learn to play the violin.
That is why Julie Holmberg, a viola and violin teacher for 24 years, has children play in front of stuffed animals from time to time.
"We use a lot of games and make it fun for them, but it still gets the job done," Holmberg said.
The practice helped the children prepare for Friday's performance in South Park.
The children, ranging in age from 3 to 16, learn to play their instrument through the Suzuki method, which focuses on having parents help tutor the children using nonjudgmental language.
Holmberg requires her students to memorize their music, which helps develop the right side of their brains and their confidence.
One of her younger students, 5-year-old Faith Hedges, started playing seven months ago.
"She likes her lessons with Mrs. Holmberg," said Laura Hedges, her mother. "She always has little animals in her office she likes to play for."
Copyright 2018 The Lawrence Journal-World. All rights reserved. This material may not be published, broadcast, rewritten or redistributed. We strive to uphold our values for every story published.