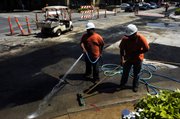 Three questions with ... Philip Ciesielski, the city's assistant director of utilities
Back to normal.
That's what downtown merchants were celebrating Friday as construction crews replacing a century-old waterline wrapped up work nearly two months ahead of schedule.
"It is going to be business as usual again," said Joe Flannery, president of Weaver's Department Store, as crews were preparing to open Massachusetts Street back up to two-way traffic between Ninth and 11th streets. The barricades limiting parking to one side of the street also were removed Friday.
The street had been limited to one-way traffic and restricted parking since late May.
"This is a great gift to everybody downtown," Flannery said.
The project was supposed to last until early September. Businesses were bracing for that because it had taken multiple months the previous two summers for crews to replace waterlines in the 600 through 900 blocks of Massachusetts Street.
But those previous two summer's worth of work paid dividends this year, said Philip Ciesielski, the city's assistant director of utilities. That's because the construction crew - Nowak Construction of Goddard - had done the previous two year's worth of work.
"They had a really good idea of what to expect and what type of hurdles come up with a project like this," Ciesielski said. "They were really efficient based on their past experience."
They also weren't afraid to get wet. Kenneth Etter, the project supervisor for Nowak, said his crews routinely worked in the rain and put in long days.
"It would depend on how hot it got and how tired the guys got, but we always worked 50-plus-hour weeks," Etter said.
Nowak has more workers on the job than in past years. Dave Osborne, the city inspector on the project, said the manpower was a major factor.
"They knew what to expect from the past two years, but the big thing is that they're a hard-working crew that wouldn't slow down," Osborne said.
Downtown merchants generally agreed. Most said the crews were nice guys, but at the same time, they were glad to see them go.
"I'll definitely be happy to have the parking back," said Willie Wilkerson, manager of Jayhawk Spirit. "Everything in downtown is about parking."
Several businesses said sales did suffer during the construction, but not by as much as they had feared. Flannery said sales at Weaver's, one of the larger retailers downtown, were off by less than 10 percent.
Nowak will receive a bonus for getting the work done early. The company will receive a $1,000-per-day incentive for every working day the project is completed ahead of schedule. Ciesielski said that payment probably will end up being in the $20,000 to $30,000 range. The bonus will be calculated after all the small details on the project are completed, which is expected to be by the end of next week. The entire project - from Ninth to 11th streets - had a price tag of $1.92 million.
City Commissioner Mike Amyx, who owns a downtown barber shop, said he thought the bonus money paid to Nowak was a good investment on the city's part. He said the city would start recouping some of the money immediately through increased sales tax collections. The city's annual downtown sidewalk sale is Thursday, and this will be the first time since 2004 that it hasn't been conducted in the middle of a construction zone.
"Now there's no excuse for people not to come down to the sale," Amyx said.
Copyright 2018 The Lawrence Journal-World. All rights reserved. This material may not be published, broadcast, rewritten or redistributed. We strive to uphold our values for every story published.