Sherry Fitzgerald advertises her downtown shop Beyond the Door as a laid-back hippie store.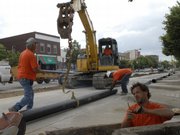 But as construction crews have descended upon the 900 and 1000 blocks of Massachusetts Street to replace a century-old waterline, business has become a little too laid back - even for Fitzgerald's admittedly beach-bum style.
"In all honesty, I went home and took a nap today because it was so slow," Fitzgerald said.
She hopes business gets better because the construction crews that are outside her door aren't going anywhere anytime soon. The crews, for a third consecutive summer, are disrupting traffic, as well as parking, in parts of downtown.
The current batch of construction work has closed all parking on the east side of Massachusetts Street from Ninth to 11th streets. It also has closed a two-block stretch of street to northbound traffic. Southbound traffic is unaffected.
This phase of the construction project is expected to last until July 12, when crews will switch to the other side of the street. At that point, parking on the west side of Massachusetts Street will be closed in the two-block area, and southbound traffic will be prohibited.
The entire project is expected to be completed by Sept. 7. Crews will break for the annual Downtown Lawrence Sidewalk Sale on July 19.
Philip Ciesielski, an engineer with the city's Utilities Department, said the project is on schedule.
"We've had quite a bit of rain, but they were still able to figure out how to work around that and work full days most of the time," Ciesielski said of Nowak Construction crews.
Other shop owners in the 900 block of Massachusetts Street were being optimistic about how they would fare during the construction project.
Jim Bateman, an owner of the Yarn Barn, said he thought having the city-owned parking garage directly east of the 900 block of Massachusetts Street would provide shoppers with a convenient parking option. Most businesses have rear entrances near the garage.
The city this summer also is waiving parking fees for the roof level of the parking garage to encourage people to park there.
Copyright 2018 The Lawrence Journal-World. All rights reserved. This material may not be published, broadcast, rewritten or redistributed. We strive to uphold our values for every story published.