Three questions with ... Tina Shambaugh, Neighborhood Resource Officer for the Lawrence Police Department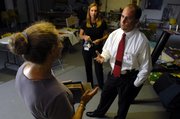 Neighborhood Resource Officers
Seven months since it was created, officers in the Neighborhood Resource program say they are connecting with community members.
Tina Shambaugh and Trent McKinley, former Lawrence patrol officers, have visited several groups in the city, including eight neighborhood associations. They also try to be a presence at each City Commission meeting.
"If somebody has a problem, they usually bring it to the City Commission," McKinley said. "That way, we're there to talk to."
The Neighborhood Resource Officer program was established in January to address such issues as noise and nuisance house complaints, graffiti, personal and residential safety, business security and crime prevention.
The officers also distribute bulletins and tips relating to specific crimes that may have occurred.
The program, brainchild of City Manager David Corliss, is financed through the city's general fund budget.
"I just know that we have limited law enforcement resources. We're not able to fund as many positions as we'd like," Corliss said. "But it made sense to designate some officers where they would be available to attend meetings and look at certain statistical trends and focus attention on that."
The officers report a decrease in noise complaints compared with this time last year. In the first six months of 2006, 1,284 noise calls were reported. For the same time frame this year, 1,152 noise calls were received.
Officers credit part of that to a new procedure in how the calls are handled.
Noise complaints are audited each week by Shambaugh and McKinley, who work with residents and landlords to ensure second offenses don't occur.
"The big thing is property owners had no idea or they were getting a different story from their tenants," McKinley said.
While no other tangible results are clear at this point, officers say the relationships built in handling noise and nuisance house complaints can lead to solving other issues, such as drug use, blight, untagged vehicles or more serious crimes.
"Where we've made the biggest difference is in the neighborhoods where people are constantly checking in with us," McKinley told members of the East Lawrence Neighborhood Association this week. "We will go where folks need us."
"We're solving the problem far more broadly than we used to," said Sgt. Dan Ward, who oversees the NRO program.
East Lawrence Neighborhood Association president Phil Collison hopes that the NROs will help put a stop to drug use around the city.
"Addressing issues of known drug houses would be a very positive thing that (the NROs) could do to move forward," he said. "I think, in the long run, this is a really positive step that the city's taking to open lines of communication."
Officers can be reached at 830-7410 or by e-mail at nro@lkpd.org.
Copyright 2018 The Lawrence Journal-World. All rights reserved. This material may not be published, broadcast, rewritten or redistributed. We strive to uphold our values for every story published.