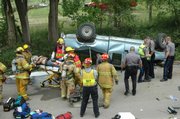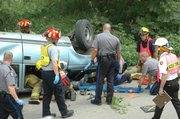 Two men were life-flighted to a Kansas City area hospital Wednesday afternoon after a Chevrolet truck rolled over on the 400 block of North Street.
Phillip Collins, 44, of Lawrence, was the driver of the pickup involved in the accident, and Gerald Zillner, 52, of Lawrence, was the passenger who was ejected.
The truck was driving east on North Street, said Lawrence police Sgt. Paul Fellers. Police were notified about 12:20 p.m.
About a yard away from the accident, tire marks were visible in the grass on the south side of North Street. The vehicle landed upside down on the opposite side of the street in a shallow ditch. Witnesses said they could smell gasoline, which was leaking out of the truck.
Emergency responders used extrication equipment to unlodge Collins, who was stuck under the front end of the vehicle.
Kelly Cobb, of Lawrence, was picking up her 11-year-old son at a friend's house at the time of the accident. Cobb said she heard the vehicle squeal, ran outside and saw dust flying in the air.
"My son and her two sons ran down and starting screaming, 'Mom, call the police, somebody's stuck up under the vehicle.'"
Two helicopters landed at 1-70 Business Center and transferred the men to a hospital. Their conditions were not yet available.
Fellers said the accident is under investigation.
Copyright 2018 The Lawrence Journal-World. All rights reserved. This material may not be published, broadcast, rewritten or redistributed. We strive to uphold our values for every story published.