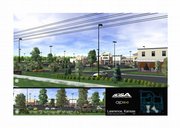 Angie Stoner, a Wal-Mart spokeswoman, talking about the proposed store and development near Sixth Street and Wakarusa Drive.
It was a Wal-Mart-friendly crowd.
Developers Doug Compton and Bill Newsome said comments had "pretty much all been positive" from the about 30 people who attended an open house Tuesday night at Free State High School to view plans of the retail store proposed in northwestern Lawrence. It features a native grass area, landscaping and natural building materials.
"I think it's going to be a beautiful addition, really, to the neighborhood," said Nancy Burke, who has lived in the area for nine years.
"They're doing this all over the country. People need to get up and see them," her husband, Dave, said.
He said they travel often and have seen the looks of Wal-Mart stores across the country.
The project, in the northwest corner of Sixth Street and Wakarusa Drive, has drawn opposition from some neighbors concerned about it adding traffic to the area, particularly with the high school nearby.
Wal-Mart released the plans for the new 99,840-square-foot store, four smaller buildings, surrounding landscaping, a pedestrian path, seating areas and other features in June. Wal-Mart and the developers agreed to the city's request in April to delay the start of a possible civil trial until September. A trial would determine whether the city had illegally denied Wal-Mart a building permit.
After the April election, new Commissioners Rob Chestnut and Mike Dever replaced two of three commissioners - David Schauner and Mike Rundle - who had opposed the Wal-Mart plan. Commissioner Boog Highberger retained his seat.
Wal-Mart spokeswoman Angie Stoner said organizers sent invitations to 500 people from surrounding neighborhoods for the Tuesday meeting. Members of the public could speak with an engineer and view renderings of the store and the proposed development.
Roger Bain, who has lived in the neighborhood for nine years, said the group made a good presentation, but he has opposed the plan from the beginning.
"I just don't think there's any real need for it," he said. "I'm not going to shop there, and I don't know who will."
Bain said he was concerned a new Wal-Mart would weaken Lawrence's downtown.
"I really hate to see that. (The proposed store) is nothing that you wouldn't see in Johnson County or Topeka or Wichita or any place like that," he said.
Neighbor Susan Winter said how to safely handle traffic was her main worry.
"I don't think it's really Wal-Mart's concern as much as it is the city's," she said.
Dan Gaumer said he has supported the proposal but most of his neighbors oppose it. The plan appeared to address his traffic concerns.
"I like the truck pattern. They've done about as much as they can do - to load and unload in back of the store. I think it will do a good job handling it the best you can."
Lawrence-Douglas County planning commissioners are scheduled to have a full hearing on the plan July 23, and city commissioners are scheduled to consider it in August.
Copyright 2018 The Lawrence Journal-World. All rights reserved. This material may not be published, broadcast, rewritten or redistributed. We strive to uphold our values for every story published.