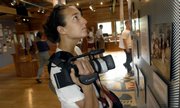 A group of 20-somethings visited Lawrence's two universities Tuesday to learn about how they are addressing environmental and American Indian issues.
They are on a two-month Udall Legacy Bus Tour that started in Washington, D.C., and will end Aug. 4 in Tucson, Ariz. The tour was organized by the Morris K. Udall Foundation, a federal agency that awards scholarships for studies related to the environment, American Indian public policy and health care.
"The purpose of the tour is to highlight people who are finding solutions to pressing environmental and Native American issues," said Eli Zigas, communications manager.
He and other tour members seemed to be impressed with what they saw in Lawrence.
"It was an eye-opening experience," he said of learning about the history of Haskell Indian Nations University. While at Haskell, the group toured the campus and Cultural Center & Museum. The 13 former Udall scholars - who are from different parts of the country - also learned about a shelter made of switchgrass.
"It demonstrated how to use native plants to build a structure that would last a long time," Zigas said.
The group also visited the Baker Wetlands and Kansas University, where they learned about its efforts to generate fuel from cafeteria waste. Zigas said the group saw a similar initiative at Vanderbilt University in Nashville, Tenn., but didn't think it had the same support as KU's.
"Seeing what an institution can do - when you have that support to move an initiative - was beneficial," Zigas said. "I would love to hear how it ends up in a couple years."
The group also toured the environmentally friendly Ad Astra Student Cooperative House, 1033 Ky., and ate lunch at Ecumenical Christian Ministries, 1204 Oread Ave., where no paper products were used and the meal was made of locally grown products. The group also ate at Local Burger, a downtown restaurant that specializes in locally grown, organic meats and produce.
Zigas, a 2006 Grinnell College graduate who interned with the Union of Concerned Scientists, said he is passionate about local food. He is looking forward to a stop in Montana, where the group will compare the food programs at the University of Montana to those of the tribal
college of Salish Kootenai College; both use locally grown products.
"What I am really excited to look at is the difference in motivation," he said. "Is it for taste? Is it for economics? Is it for the environment? Is it for cultural reasons?"
Udall scholars hope to spread the word about what they are learning by riding on the first green-certified motorcoach that runs on 20 percent biodiesel and 80 percent ultra-low-sulfur diesel. The bus, which is covered in green and yellow leaves, markets the group's Web site, www.udall.gov, where the participants are posting blogs about their experiences.
"We hear about all of the problems on Native American and environmental issues but don't hear as often about the solutions," Zigas said. "Hopefully, we can communicate and give a sense of optimism that there really are great things going on and things being done by young people to address these issues."
Bob Filbin, a Colgate University graduate who works for Oregon's Zero Waste Alliance, said he couldn't pass up the tour.
"A lot of what I am learning here will help me to inform the organizations that I am working with," he said.
Copyright 2018 The Lawrence Journal-World. All rights reserved. This material may not be published, broadcast, rewritten or redistributed. We strive to uphold our values for every story published.