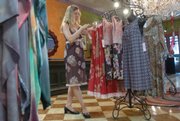 At last year's Downtown Sidewalk Sale, a person could almost fry an egg on the sidewalk and much of the 800 block of Massachusetts Street was torn up.
Still, shoppers still came in droves.
Construction persists, albeit for two blocks south, and it's too soon to predict the weather. But the sale should still attract crowds of bargain hunters.
"It will be more difficult to get around, but hopefully people will still make it out," said Charlene Schlotzhauer, owner of the Prairie Pond Studio and Bead Co., 809 Mass., and a member of Downtown Lawrence Inc.
The sidewalk sale, which will take place from dawn until dusk on July 19, attracts people from throughout the Midwest. The sale stretches along Massachusetts Street between Sixth and 11th streets.
"Its a real good thing for the businesses and customers," Schlotzhauer said. "There's a lot of people that save money all year just for this sale."
There will be water stations set up along Massachusetts Street, and fans will be placed around many of the sales, Schlotzhauer said.
Mary Cox, owner of Shark's Surf Shop, 813 Mass., and also a member of the DLI board, said it takes several days to get ready for the sidewalk sale. That is why she will suggest that the sidewalk sale be extended to two days instead of one in the next few years.
"It takes a lot of preparation, and there's just not enough time," she said.
Cox said that although the construction last year affected many of the customers, her business still had a very profitable day. This year she also has received several complaints, but she said she does not expect the construction along Massachusetts Street to hamper the sales or the fun.
City Manager Dave Corliss said although construction still is in progress on the west side of Massachusetts Street in the 900 and 1000 blocks, construction crews will not be working on the 19th, and fences will be moved back from the sidewalks to accommodate the increased number of customers.
Copyright 2018 The Lawrence Journal-World. All rights reserved. This material may not be published, broadcast, rewritten or redistributed. We strive to uphold our values for every story published.