Photo Gallery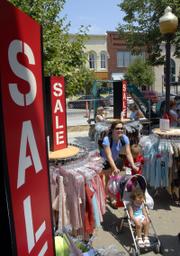 Sidewalk Sale
Sara Oliver figures she's already paid her dues.
That's why the owner of the downtown shop The Topiary Tree doesn't think she needs to pay another $380 a year in dues to the Downtown Lawrence Inc. organization to participate in the community's annual Downtown Lawrence Sidewalk Sale.
"When you pay $20,000 a year in taxes, I think we should be able to put a booth on our sidewalk once a year," Oliver said.
But leaders of Downtown Lawrence Inc. - the nonprofit trade group that organizes the sale - is asking city commissioners tonight to grant exclusive use of the Massachusetts Street sidewalk to DLI during the one-day sale, which is always on the third Thursday of July.
That would mean businesses that aren't members of DLI wouldn't be able to have an outdoor booth during the sale. Rick Marquez, executive director of DLI, said his members thought that was only fair because DLI spends nearly $5,000 per year to promote the event, plus numerous hours of staff time in organizing the sale.
"The sidewalk sale is an extremely successful day, in large part, because DLI really promotes it," Marquez said. "We think the cost of membership is extremely reasonable. If a business were to effectively market themselves on that day, they would spend much more than the membership fee."
Most downtown merchants that participate in the sidewalk sale do so through their DLI membership. Marquez said the organization has 113 members, with about 80 Massachusetts Street merchants. But DLI estimated that there have been about 10 businesses who set up booths in front of their Massachusetts Street stores who are not DLI members.
Under the current city regulations, that is allowable. For a $10 fee, a downtown business can apply for a permit to use a portion of the sidewalk in front of their store. Last year, three Massachusetts Street businesses - The Topiary Tree, Antique Bazaars II, and The Casbah - applied for and received the permits for the sidewalk sale.
Marquez said observations from last year's sale indicated seven other businesses who are not DLI members also had booths during the event but did not have a city permit. He declined to identify those businesses.
Mayor Mike Amyx, who owns a downtown barber shop, said he had some concerns about the issue.
"I do want to make sure that we promote the event because it is an important day in downtown," Amyx said. "But I have some concerns about excluding any shop owners."
Dennis Oakley, an owner of Antique Bazaars II, said he didn't join the organization, in part, because he didn't think he could justify the $380 in dues to simply be part of the sidewalk sale. Several retailers said the sidewalk sale is more advantageous to some businesses than others, with apparel stores often being the biggest beneficiaries.
But Oakley said actions like this also discourage him from joining DLI.
"I think DLI is pretty heavy-handed in how it does business, and this is just another example of that," Oakley said, pointing to a 2004 letter from the organization that indicated businesses needed to become a member of DLI to participate in the sale, but did not mention that they could apply for the $10 sidewalk permit from the city.
"They don't represent Downtown Lawrence," Oakley said. "They just represent their downtown businesses."
The group, in addition to receiving membership dues, receives a substantial portion of its budget from city funds. In 2006, the city allocated $47,500 to Downtown Lawrence Inc.
Charlene Schlotzhauer - owner of Prairie Pond Studio & Bead Co. and a DLI board member - supports the change because it would help more evenly share the costs to organize and promote the sale.
"DLI is an organization that really has a good core group of people who are trying real hard to do positive things for downtown," Schlotzhauer said. "Now is the time for us to join together because we can do a lot of great things if we work together.
"And we're talking about a $380 fee for a sidewalk sale that they probably will make $5,000 to $10,000 off of. It more than pays for itself."
Commissioners meet at 6:35 p.m. tonight at City Hall, Sixth and Massachusetts streets.
Copyright 2018 The Lawrence Journal-World. All rights reserved. This material may not be published, broadcast, rewritten or redistributed. We strive to uphold our values for every story published.