Some arrived early to get the hot deals while the weather was still relatively cool.
But thousands of others were still braving Lawrence's annual Downtown Sidewalk Sale at midday, when temperatures sizzled up to more than 100 degrees.
"A lot of people have come out early to beat the heat. I've been very pleased with the traffic," said Earl Reineman, vice president of Weaver's Department Store, 901 Mass.
Reineman said the sidewalk sale is one of the biggest sales days of the year for Massachusetts Street merchants.
"We always hear about a lot of people from Kansas City and Topeka and the surrounding areas that plan way ahead for this day and ask for the day off from work far in advance so they can get it," he said.
One of those was Mary Daugherty, who left from her home in Chanute at 3 a.m. to make it to the sale when it began at sunrise.
Photo Gallery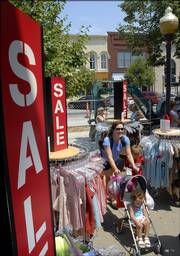 Sidewalk Sale 2006
By 11 a.m., Daugherty and one of her daughters, Bonnie Reedy, Lyndon, were drinking ice teas at the sidewalk cafe at Milton's Coffee, 920 Mass.
"We came to enjoy the people and the sidewalk sale and to pick up some bargains," Daugherty said.
Reedy, who had lived in California for 20 years before moving to Lyndon, said this was her first sidewalk sale.
It was also the first sidewalk sale for 7-month-old Oliver Mason, Lawrence.
He was being carried by his mother, Lisa Kim-Mason, Lawrence.
"I think he's enjoying the experience," Kim-Mason said. "There's lots to look at. It's a new experience for him."
As the Douglas County Bank temperature climbed past 101 degrees, Mary King kept an eye on sales atop a ladder at Shark's Surf Shop, 813 Mass.
Holding a water bottle, King smiled down from her perch, as shoppers browsed through the items on the sidewalk.
"It's sweaty. It's going very well," King said. "It's not something you want to miss. It's the best day of the year."
Copyright 2018 The Lawrence Journal-World. All rights reserved. This material may not be published, broadcast, rewritten or redistributed. We strive to uphold our values for every story published.