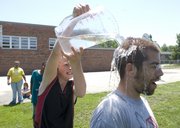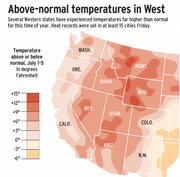 Summer sunshine means it's the perfect time to splash in the pool for some Lawrencians - and it's unbearable work weather for others.
The Lawrence Outdoor Aquatic Center provided a cool escape for about 650 people during the 90-degree temperatures Friday. And it likely will be an oasis through the weekend as well.
Jennifer Schack, 6News meteorologist, said she's expecting temperatures today and Sunday to be 92 and 93 degrees respectively - and heat indices up to 100 degrees.
"We'll see a lot of sun both days," Schack said. "We won't see much in the way of clouds, so, if outside, wear sunscreen."
Paula Kyriakos, lifeguard at the Lawrence Outdoor Aquatic Center, 727 Ky., is sure to wear sunscreen - SPF 50.
She and 15 other lifeguards rotate their posts every 20 minutes. Kyriakos said she looks forward to guarding the slide station because it gives her a chance to plunge into the pool when she's done.
Barbara Tubbs, a daycare provider, kept her five young charges cool by visiting the pool.
"I try to get them outside in the early morning," she said. "In the afternoon, we try to swim."
Not everyone can find refuge from the rays, however.
Construction crews laying cement near 22nd Street and Kasold Drive looked to shade under trees when possible.
Branden Boyd, project manager for R.D. Johnson Excavating Co. Inc., said in hot weather he tries to ensure construction workers stay hydrated and have water nearby.
"Asphalt comes out of the paver at 160 degrees," Boyd said. "It's a hot business already."
The earliest relief may come with Sunday winds, and Schack said the earliest chance for rain is late Monday.
Copyright 2017 The Lawrence Journal-World. All rights reserved. This material may not be published, broadcast, rewritten or redistributed. We strive to uphold our values for every story published.