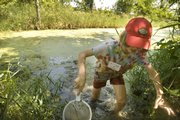 Youngsters got down and dirty to learn about water habitats around Lawrence.
Students spent Friday wading through the Baker Wetlands and searching for cray fish in Deer Creek, near Clinton Lake. The activities were part of the Aquatic Biology Science Camp, one of six daylong summer science camps offered by Kansas University's Natural History Museum.
The camp was postponed last week because of rain and possible flooding.
Dawn Kirchner, instructor of the summer camps, said the creek was higher than usual.
"This year the flow is higher, and the water level is higher, but that's a good thing because there's more cray fish and the kids like it," Kirchner said.
Not only did they catch cray fish but also they found larvae, flies, insects, snails, a snake and a few bones.
Kirchner said the main purpose of the camp is to inform students about the importance of water and the animals that live in it. As students caught creatures, Kirchner would explain their significance to the area. She said keeping the students focused and organized on catching the animals was not always an easy task. One student lost a shoe and several felt inclined to swim in the creek.
"That's the biggest challenge: to keep them focused. But they still have fun," she said.
Abby Fry, who will be a third-grader at Morris Elementary School in Overland Park, said she enjoyed getting muddy and learning about the plant and animal life.
Harley Holub, who will be a fifth-grader at Vinland Grade School, said his favorite part of the camp was visiting Deer Creek.
"I like catching the animals and observing them because there's a lot of cool animals," said Harley while showing one of the day's catches. "I've learned there's hundreds of different species in a single creek, and there's a lot of different places water can be."
Copyright 2018 The Lawrence Journal-World. All rights reserved. This material may not be published, broadcast, rewritten or redistributed. We strive to uphold our values for every story published.