-->
Photo Gallery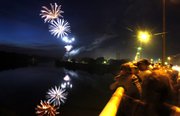 Fourth of July, 2007
After rain and high winds, Lawrencians saw the light on Wednesday.
About $12,000 in fireworks exploded over the Kansas River around 10 p.m. as scheduled - a return to Fourth of July festivities following a rush of inclement weather in the early afternoon.
"If we called off the fireworks, we have no rain day," said Rick Bellinger, show organizer and Lawrence Jaycees member. "We'd be sending the fireworks back, and there would have been no fireworks this year, so it would have been really bad."
Gusts of 60 miles per hour were recorded at Lawrence Memorial Hospital around 3:30 p.m., and the National Weather Service issued a severe thunderstorm warning for the Lawrence area.
Tornado sirens also blared around 3:30 p.m. for Lecompton, Lawrence and west Douglas County after law enforcement spotted a funnel cloud near Kansas Highway 10 and Wakarusa Drive.
The weather chased boaters off Clinton Lake and knocked out power to more than 350 Lawrence customers, affecting 228 customers in the area between 19th and 20th streets and Harper to Massachusetts streets, as well as an additional 90 customers by U.S. Highway 40 and Second Street, Westar Energy reported. By day's end, power was restored to all local customers, according to Westar's Web site.
For many Independence Day revelers, the weather was a temporary setback, and concerts and other festivities continued on schedule after the storm.
Susan Shea, of Lawrence, and her family gathered at Burcham Park for the fireworks display.
"We were going to come out no matter what," she said.
Copyright 2018 The Lawrence Journal-World. All rights reserved. This material may not be published, broadcast, rewritten or redistributed. We strive to uphold our values for every story published.