-->
Photo Gallery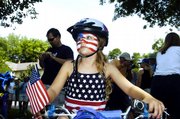 Old West Neighborhood Parade
Men, women, children and dogs rocked Old West Lawrence on Wednesday morning for the neighborhood's annual Independence Day parade.
The festive crew, clad in the colors of Old Glory, took to the corner of Seventh and Ohio streets at 10 a.m. There they boarded wagons, strollers, pogo sticks and bicycles for a jolly romp around the block.
"It's a chance for everybody to reflect on the positive parts of what it means to be patriotic," said Andrea Albright, who marched with Lance Adams and sons Max, 4, Henry, 2, and Ike, 6 months.
The event was not short on spectacle.
A boombox broadcast patriotic tunes. Dogs wore red, white and blue handkerchiefs. Kids decked out their bicycles as if they were Christmas trees.
Ten-year-old Michael Quackenbush taped a colorful top hat to his bicycle helmet. He admitted his efforts were part of a bigger plan.
"Last year, someone took a picture of me and I got my picture in the paper, so I decorated really cool, hoping I'll get into it again," he said.
Younger sister Laura Quackenbush, 8, fixed to her helmet a red stuffed animal that she won from a pinball game. Both siblings have participated in the parade for years - riding in a rickshaw when they were too young to steer their own course.
To Laura, the holiday ranks among the best - a time to devour popsicles and watch fireworks.
"To me, it's just about fun," she said.
Eleven-year-old Siel Snowden, a master pogo stick jumper, bounced her way through the parade. To her, the 231st Independence Day was about more than barbecues and sparklers.
"I think it's mostly about signing the Declaration of Independence," she said.
After years of joining the crowd, 18-year-old Emma Hoyle worked traffic control for the event.
She watched cars and helped steer the paraders in the right direction, assisting her mother, Jennifer Glenn, a parade co-founder.
While Hoyle wasn't parading, she was relishing the day. She stood beside friend Katie Orscheln, 17, both glowing in red, white and blue.
"We really get into the Fourth of July," Hoyle said. "It's an excuse to get all your friends together and dress up and buy all things America."
Orscheln wore a homemade skirt of the stars and stripes.
"America is the greatest country ever," she said. "I would never live anywhere else... I celebrate all year, but everything works up to today."
Copyright 2018 The Lawrence Journal-World. All rights reserved. This material may not be published, broadcast, rewritten or redistributed. We strive to uphold our values for every story published.