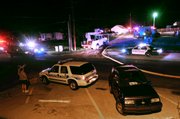 Eudora — Eudora fire crews evacuated two city blocks late Wednesday night following a structure fire and gas leak.
Crews responded about 10 p.m. to a fire at a garage and home at 618 Locust St.
Eudora Fire Chief Randy Ates said he was unsure of the cause of the blaze or how it was related to a downed power line near the structure.
"I don't know if the fire brought the power line down or if it came down and started the fire," Ates said.
A gas leak near the structures compounded the problem.
With "two buildings still smoldering and escaping gas, we've got a fire problem, so we've evacuated the entire city block and sent everyone to City Hall to stay there until we get the situation stabilized," Ates said at the scene.
The 600 block of Locust Street and 600 block Church Street were evacuated until early this morning when the gas leak was fixed.
Emergency crews from Eudora, Wakarusa, Reno, and Sherman townships provided backup, Ates said.
The blaze caused roof damage to the garage and also damaged the residence at 618 Locust. Ates said there was exterior damage to the neighboring residence at 620 Locust. Everyone was evacuated from the area safely, Ates said.
Copyright 2018 The Lawrence Journal-World. All rights reserved. This material may not be published, broadcast, rewritten or redistributed. We strive to uphold our values for every story published.