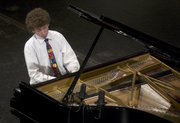 George Fu can trace his love of playing the piano to when he was 5.
He tried to sneak an electric one into his family's vehicle to start pounding the keyboard. Soon after, he was imitating songs he heard on television.
"That's when I started playing by ear," said the 16-year-old from Frederick, Md.
On Sunday at the Lied Center, the high school junior's progress in 11 years was evident as he played a 25-minute repertoire that included pieces by Bach and Beethoven.
Fu and 13 other semifinalists competed in an international piano competition organized by the International Institute for Young Musicians in collaboration with the Kansas University School of Fine Arts.
"You never have a perfect performance, but that's always something you can strive for," Fu said.
The young musicians represent the next generation of concert pianists, so organizers feel grateful to get them in one place, said Scott McBride Smith, the institute's president and CEO.
The competition is part of the institute's Summer Music Academy, where 100 pianists, ages 11 to 18, study at KU for most of the month.
"I can comfortably say this is among the highest-level competition in the world," said John McCarthy, director of preparatory and extension divisions at the San Francisco Conservatory of Music.
Christine Kim, 15, of Palo Alto, Calif., remembers starting to play piano when she was also 5. She plans to pursue English as a potential major in college but is grateful for her musical experience growing up.
"I think it's really rewarding - performing and getting to learn new pieces, exploring different sounds," Kim said.
Dominic Cheli, 14, of St. Charles, Mo., can attest to practicing long hours to prepare for the competition. He sat down in front of a piano four to five hours a day to practice his repertoire, which included Bach, Tchaikovsky and Mozart.
But seconds after he wrapped up his performance Sunday afternoon, the crowd's reaction made him realize why he loves to perform, he said.
"I have a lot of adrenaline going through me right now," Cheli said.
Playtimes
The piano competition finals, from 3 p.m. to 8 p.m. today at the Lied Center, are free and open to the public. The winners will perform a concert at 7:30 p.m. Sunday at the Lawrence Arts Center, 940 N.H.; the cost is $12 for adults and $7 for students.
Copyright 2018 The Lawrence Journal-World. All rights reserved. This material may not be published, broadcast, rewritten or redistributed. We strive to uphold our values for every story published.