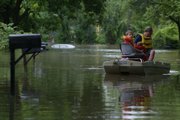 A flash flood watch remains in effect until this afternoon, but Sarah Jones, 6News weather forecaster, said chances for rain in Lawrence are decreasing.
"We have a slight chance for lingering rain in the morning and drying out in the afternoon," Jones said. "We may even see some sunshine today."
Lawrence received an inch of rain Saturday before it began to taper off about 3 p.m., she said.
Two hours earlier, the National Weather Service issued a flash flood warning that was in effect until Saturday evening. Spotters reported 3 to 4 feet of water flowing over East 1100 Road and North 200 Road, six miles west of Baldwin City. Rain was falling at a rate of about an inch per hour in the county.
A flash flood watch that began Wednesday was extended until this afternoon, affecting a portion of east-central Kansas including Douglas, Franklin and Coffey counties.
Dennis Cavanaugh, a meteorologist with the National Weather Service in Topeka, said the flash flood watch was extended because a large-scale weather pattern sitting over south-central Kansas had not changed.
"The storm total precipitation has been very large, he said. "Over Anderson County we have gotten reports of 15 to 16 inches over the last three days and it's still happening."
He said the weather service anticipated heavy rainfall over the last few days, "but no one expected 15 inches," Cavanaugh said. "It's still an exceptional event."
"We have a weak low-pressure system sitting over south-central Kansas and it's helping pump tropical moisture into eastern Kansas," Cavanaugh said.
The tropical moisture is hitting dry air across the northern part of the state, causing persistent precipitation, he said. Thunderstorms were not likely, however.
Voluntary evacuations were under way Saturday in Iola, said Corey Schinstock, assistant city administrator.
"Various sections in the south of town are under water, and the water is climbing," Schinstock said. "All the creeks are flooding."
He said the city also disconnected power to several homes in the town of about 6,000 as a safety precaution. There were no reports of injuries, he said.
Gov. Kathleen Sebelius declared a state of disaster emergency in 12 counties. The declaration covers Anderson, Butler, Bourbon, Coffey, Cowley, Chautaqua, Linn, Montgomery, Neosho, Osage, Wilson and Woodson counties, all in southeast Kansas.
These counties will be added to an earlier state declaration for the storm period, beginning May 21. The state will seek to have all affected counties included in a federal disaster declaration.
The Crawford County Sheriff's Department said emergency workers used ropes and a harness to rescue two teenagers from the top of a pickup truck after the truck became wedged against a tree at a low-water crossing in Crawford State Park in southeast Kansas.
"Over the next 24 hours we're still expecting good coverage of rain showers producing heavy rain and flash flooding over east-central Kansas," Cavanaugh said. "It will extend into southeast Kansas and western Missouri."
He said two additional inches of rain could accumulate in portions of southeast Kansas into Coffey and Franklin counties over the next 24 hours as well.
Copyright 2018 The Lawrence Journal-World. All rights reserved. This material may not be published, broadcast, rewritten or redistributed. We strive to uphold our values for every story published.