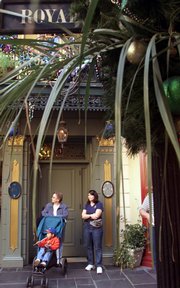 Anaheim, Calif. — The wait to obtain a membership for Disneyland's exclusive Club 33 is so long that wannabe members joke that the only way to move up the list is when somebody dies.
Dale Mattson has been parked on Club 33's waiting list since 2001, and Robert Tickell for about that long. And poor Chris Villaflor - Disney informed him this month that the list is so bloated, he can't even get on it.
But now, there might be hope - at least a glimmer of it. Disneyland officials said that over the next year, they plan to do some table-rearranging to add seating capacity to the members-only restaurant tucked away in New Orleans Square, identifiable only by a green door with the address: 33.
The membership, which stands at about 487, could increase to 500 - not exactly a huge growth spurt, especially considering that the nine-year waiting list is capped at 1,000 people. It's so incremental that Tickell, 55, laughed hysterically when he heard the number.
"That sounds like Disney," said Tickell, a father of three sons. "They're very protective of that club."
The Walt Disney-designed club opened in 1967, after his death, though it was conceived as a place where he could entertain investors and business associates. Since then, it has been visited by presidents, princes and celebrities.
Of its 487 members, individuals slightly outnumber corporations. Corporate memberships cost $25,000, plus $5,925 in annual fees. Individuals pay a $9,500 initiation fee, then $3,175 annually, said Disneyland Resort spokesman Bob Tucker.
Aside from the exclusivity, there are other perks. Reservations for a meal at the club include access to Disneyland for the day for those in the member's party.
Members also are invited to behind-the-scenes tours and holiday events and can request the presence of Mickey Mouse or any other Disney character at their meals.
Memberships cannot be sold, leased, transferred or bequeathed.
Membership is limited by the capacity of the restaurant. Even now, members must make reservations weeks in advance and park officials want to ensure that the members still can come when they want.
New membership slots are allocated starting at the top of the waiting list.
The Internet is full of myths and secrets about Club 33. Many revolve around the Trophy Room, which incorporates microphones in each chandelier and a vulture that can talk. Disney intended to spice up dinners by having the vulture converse with guests.
An antique glass elevator whisks people upstairs to the elegant dining room, where gourmet meals are served. Lucky guests might catch a glimpse of a celebrity: Elton John, Kobe Bryant and Arnold Schwarzenegger all have dined there.
Visitors also can buy limited-edition Club 33 souvenirs, which can't be purchased by regular park guests. Many of the items are highly collectible. A single, blue dinner plate with the Club 33 emblem, for example, was selling recently for $450 on eBay.
Tickell is less interested in the souvenirs than the experience. He's had a soft spot for the place since he was a child. On one visit, Tickell lost his wallet and $5 his mother had given him. He reported this to her, upset and tearful.
Walt Disney himself overheard.
"About two shops down was their souvenir shop," Tickell said. "He came back with a Mickey Mouse wallet and he put five dollars in it. And he said, 'No one at Disneyland should ever have to cry.' "
Doesn't look like Walt can rescue him this time. With only five or six years under his belt, Tickell's got a long wait ahead.
Copyright 2018 The Lawrence Journal-World. All rights reserved. This material may not be published, broadcast, rewritten or redistributed. We strive to uphold our values for every story published.