Even though she wasn't doing any coaching, Kansas University women's basketball coach Bonnie Henrickson stayed plenty busy at the Jayhawk Team Jamboree Saturday.
Henrickson and her staff spent the bulk of the rainy day going back and forth between on-campus basketball courts to check out some of the 47 teams from Kansas, Missouri, Oklahoma and Iowa that took part in the jamboree.
This is the second year KU's women's program served as host for such an event for high school, junior varsity and AAU teams, and Henrickson said about 30 teams came last year.
"We're up quite a bit, which we're really excited about," Henrickson said of the turnout Saturday.
Teams played in one of four competition pools, based on level of play, but the jamboree wasn't set up in a tournament format, so no champions were crowned. Each team was guaranteed four games against quality competition, which coaches are looking for in the summer.
"That's the quickest way to get them in and out," Henrickson said of the jamboree format. "Most of these teams just want to get four games against people they don't normally play, and we've been able to do that."
The jamboree, which Henrickson called a "fantastic" recruiting tool, also enabled the women's staff to see quality talent up close.
"There are prospects in this (jamboree) who are people we are recruiting," she explained. "That's important for us to get them to campus and show them around."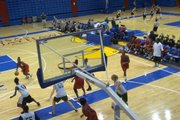 With so many teams on campus for the event, Henrickson and her staff did a great deal of mingling, meeting and greeting.
"We can meet coaches, we can meet parents here, we can talk to anybody here," Henrickson said during a break in the action in Horejsi Center.
"I'm meeting as many people as I can, and obviously there's people that I need to see and that I'll see more than once; there's a few of those - kids that we're recruiting," Henrickson said without naming names because of NCAA regulations.
While schmoozing made up a good portion of the day, the staff also did a great deal of evaluating, just as it would if it were on the road recruiting at a big tournament.
"We have a game schedule, and we know where every team's going to be and on what court, so we map it out before we get here," Henrickson said. "It's like what we do in July when we're at a big tournament that has a lot more teams than this."
The KU women's staff will visit those kinds of tournaments throughout July. Henrickson said the coaches will stay busy traveling and recruiting for two separate 10-day periods next month.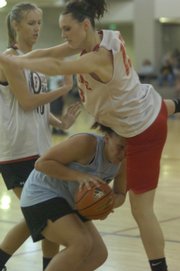 "Honestly, we're all over the map," she said. "We might be in Oregon watching kids from Kansas."
After the July recruiting, coaches and players will head to Australia for practice and exhibitions in August.
"It won't slow down here anytime soon, which is good," Henrickson said.
Copyright 2018 The Lawrence Journal-World. All rights reserved. This material may not be published, broadcast, rewritten or redistributed. We strive to uphold our values for every story published.