There's one more place to look to see that Lawrence is an environmentally friendly community: in the sewers.
Well, don't actually try that. But city leaders Tuesday announced the community's wastewater utility operations had become only the second in the country to receive three prestigious environmental and safety certifications.
"This really indicates that we are one of the premier wastewater operators in the country," said Dave Wagner, the city's assistant director of utilities, who oversees wastewater operations.
The city this month received the International Organization for Standardization's 14001 certification, which requires organizations to develop plans to reduce their operations' environmental impact. Also this month, the utility received the 18001 certification from the Occupational Health and Safety Administration.
Those two certifications are in addition to the 2005 National Biosolids Partnership certification that dictates how the city deals with treated sludge that is a byproduct of its wastewater treatment process.
The wastewater operation in Kent County, Del., is the only other utility in the country to receive all three certifications.
"What this really means is that the city, and in particular the wastewater department, has really gone above and beyond what the law says it has to do," said Jim Horne, an EPA official who works with the certification programs.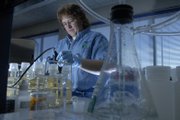 Most of the certification requirements are highly technical, but Wagner said the city should start to see some easy-to-understand results. He expects the new practices to help reduce electricity usage at the wastewater plant, which is one of the larger electric users in the community.
He also said the department plans to do more environmental education. For example, he said his department this spring will talk with restaurant owners about how to prevent disposal of food grease in sink drains. That grease is a prime cause of sewer backups in many areas.
On the safety side of the equation, Wagner said the department started requiring testing of its employees to ensure they comprehend various safety training programs.
The certifications come with an annual cost of about $10,000 to complete all the necessary audits. Wagner, though, said the city should be able to easily recoup those costs by reducing electrical costs and repair bills, and by preventing workplace injuries.
"The big benefit is that we think this provides some credibility," Wagner said. "When citizens pay their utility bill every month : what they're paying for really is an excellent city service."
Wastewater rates in the city have been going up. In 2004, commissioners approved a five-year wastewater rate plan that increased the rates for many residents by 9 percent or more, in part, to pay for a $80 million wastewater treatment plant planned south of the Wakarusa River. The plant, which is scheduled to open in 2010, will operate under the new environmental certifications.
Copyright 2018 The Lawrence Journal-World. All rights reserved. This material may not be published, broadcast, rewritten or redistributed. We strive to uphold our values for every story published.