For a romantic Valentine's Day dinner, celebrity chef Rachael Ray suggests a simple pepper steak with cognac sauce accompanied by a salad topped with caramelized onions and followed by demitasse cups of chocolate pudding.
To pull this together on the big day, make the dessert first to allow it several hours to chill. Make the salad next, but hold off on tossing the onions with the greens until just before serving. The chocolate can be served in demitasse cups (espresso-sized cups), or small bowls. Some gourmet food shops also sell small cups made out of chocolate.
Chocolate cups with whipped cream
2/3 cup whole milk
1 egg
4 tablespoons sugar, divided
Pinch salt
1 cup semisweet chocolate chips
1 to 2 tablespoons Frangelico (hazelnut liqueur) or dark rum
1 cup whipping cream
Edible flowers (found in produce department with the fresh herbs), for garnish (optional)
In a small saucepan over medium heat, bring the milk to a boil.
While the milk heats, in a blender on low, combine the egg, 2 tablespoons sugar, salt, chocolate chips and liqueur.
In a slow, steady stream, pour the boiling milk into the blender while it is turning. The hot milk will cook the egg and melt the chocolate. Blend for 1 minute, or until smooth. Spoon the chocolate mixture into demitasse cups and chill.
After dinner, use an electric mixer to beat the cream in a medium bowl until soft peaks form. Add the remaining sugar and beat to combine. Top the chocolate cups with a dollop of cream and garnish each with an edible flower.
To serve, place the cups on saucers and serve with demitasse spoons.
Makes 4 demitasse cups.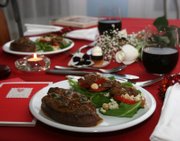 Carmelized onion-dressed salad
1/2 cup whole hazelnuts, peeled
6 tablespoons extra-virgin olive oil, divided
1 large onion, finely chopped
Salt and freshly ground black pepper
3 tablespoons balsamic vinegar, divided
1/2 tablespoon Dijon mustard
3 plum tomatoes, sliced
4 cups baby spinach or arugula (or other greens)
1/4 cup crumbled blue cheese
Preheat the oven to 325 degrees.
Place the hazelnuts on a rimmed baking sheet and put it in the oven. Toast the nuts for 10 to 12 minutes or until just lightly browned. Remove them from the oven and cool. Transfer the nuts to a cutting board and run your knife through them once to coarsely chopping them.
While the nuts are toasting, place a large skillet over medium high heat. Add 2 tablespoons of olive oil and the onions. Season with salt and pepper, then cook, stirring frequently, for 10 minutes.
Add 1 tablespoon of the balsamic vinegar and a big splash of water. Use a wooden spoon to scrape up any bits on the bottom of the pan and cook for another 1 minute.
Transfer the onions to a bowl and add the mustard and remaining vinegar. In a slow, steady steam, whisk in the remaining oil. Set aside.
In a salad bowl, combine the tomatoes, greens, cooled hazelnuts and blue cheese. Pour the caramelized onion dressing over the salad and toss to coat. Adjust salt and pepper to taste.
Makes 2 servings.
Cognac-sauced pepper steaks
Two 10- to 12-ounce shell steaks (also called club steak or New York steak, but any sirloin will do), 1 1/2 inches thick
Salt
1 heaping tablespoon coarsely ground black pepper
Extra-virgin olive oil, for drizzling
1/2 small onion, chopped
1 large garlic clove, chopped
1 nip of cognac (or 2 healthy shots)
3/4 cup beef or chicken stock
1/4 cup heavy cream
2 tablespoons chopped flat-leaf parsley
Season the steaks with salt, then sprinkle one side of each with the pepper and press it in with your fingers.
Preheat a large skillet over medium-high heat. Add 2 tablespoons of olive oil. Add the steaks, peppered side down, and cook for 4 minutes. Turn and cook an additional 3 minutes for medium-rare. Go a minute longer on each side for medium to medium-well.
Transfer the steaks from the skillet to a plate and cover them loosely with a piece of foil to keep them warm while they rest.
Return the skillet to the heat and add a drizzle of oil. Add the onion, garlic and a pinch of salt. Saute, stirring frequently, for 3 to 4 minutes.
Remove the skillet from the heat, add the cognac, then carefully return it to the burner and let it flame up. Be sure to stand back. You might need to tip the pan toward the flame to get it to ignite. Do not let the contents spill onto the burner.
Once the flame dies down add the beef stock and the cream. Increase heat to high and cook until it is lightly thickened. Add the parsley to the sauce, then pour it over the steaks.
Makes 2 servings.
Copyright 2018 The Associated Press. All rights reserved. This material may not be published, broadcast, rewritten or redistributed. We strive to uphold our values for every story published.