Southwest Junior High moving day
A look inside the new school and preparations for the move.See audio slideshow »
The days are numbered for portable classrooms at Lawrence's Southwest Junior High School.
And it couldn't come sooner for students who were walking to class in the snowy, cold weather Wednesday.
"I don't want to walk out here anymore," said Amanda Fevurly, a seventh-grader, as she hurried between the main building and one of the six portable classrooms.
"It won't be much longer," chimed in Allison Harwood, also a seventh-grader.
Allison was right.
"We anticipate being able to start moving in on Friday," said Trish Bransky, school principal.
By Monday, a majority of the 16 classrooms and four offices are expected to be ready for students and staff.
They are part of a $6.9 million building project that went under construction in January 2006. The project also includes an auxiliary gym, a conference room, a hallway and three courtyards.
The last part of the project, the gym, is expected to be complete in March, said Tom Bracciano, the district's director of facilities and operations planning.
"A long chapter in the history of the portables is coming to an end," Bracciano said.
The portable classrooms have been fixtures at the school since 1995, a year after the school opened. Bracciano said the first two were brought in to deal with an increase in enrollment related to residential growth in western Lawrence.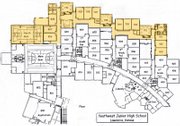 "We've added portables slowly but surely over the years," he said.
The school, which was built to handle up to 500 students, is now the largest junior high in the city, with 653 students. The new addition will help Southwest have up to 750 students.
South Junior High School, which has an enrollment of 591, and West Junior High School, which has 580, also will be able to have 750 students when their construction projects are finished later this year. Central Junior High School, which has 443 students, will be able to handle 600 students when its addition is finished.
On Wednesday, many of the finishing touches were being put on Southwest's new classrooms, which are on the north and west walls of the building. Electricians were putting in wiring for outlets; painters were touching up around windows; and tables and chairs were being removed from boxes and assembled.
Bransky said three new science rooms were still having some plumbing fixtures installed and wouldn't be ready until the middle of next week.
"We're really grateful to our community for providing the addition to our facility," Bransky said. "It should help us do an even better job at educating our kids in our community."
The Southwest project, which also included a cafeteria that opened last fall, are part of a $54 million bond issue that Lawrence voters approved in April 2005.
Bransky said most of the students and staff were looking forward to moving out of the portable classrooms, which have caused problems.
"This afternoon, it's snowing and we're having to clear space and keep the walkways safe," Bransky said. "We won't have that issue anymore."
The old portables - which cost about $60,000 - have been auctioned off to an out-of-state vendor, who paid about $1,000 apiece for them, Bracciano said. They will be removed from the school property in about a month.
Bracciano compared the portables - new double-wide trailers - to cars in how fast they depreciate. He also said that it costs about $4,000 to have them moved.
Bransky said almost every student has had a class in one of the portables, which house 10 classrooms.
"We figure that about 200 students and staff are either moving in or out of the portable classrooms every 45 minutes," Bransky said. "So it's a significant number of people who are outside in the elements on a day like this, where the wind chill is around zero."
Students at the school said they were looking forward to the move.
"I'm excited for it. Because when it gets cold outside, I don't really like to be walking all the way outside," Hannah Hall, an eighth-grader, said after she finished the walk. "Hopefully, I'll get to my classes on time quicker."
Copyright 2018 The Lawrence Journal-World. All rights reserved. This material may not be published, broadcast, rewritten or redistributed. We strive to uphold our values for every story published.