Baghdad, Iraq — Attackers using bombs, rockets and guns killed at least 60 Shiite worshippers Tuesday as they observed their most sacred holiday, Iraqi officials said.
The day's deadliest incident occurred in the town of Baladruz, in Diyala province in eastern Iraq, when a suicide bomber walked through the main gate of the Ali al-Akbar mosque and detonated his explosives, killing 17 people and injuring at least 57, according to Ali al-Khaiyam, a police spokesman.
The worshippers were marking Ashura, which commemorates the death of the prophet Muhammad's grandson in a seventh-century battle at Karbala, in southern Iraq. The city is the focal point of the 10-day festival, which culminated Tuesday.
At least 11 other Shiites observing the holiday were killed in Khanaqin, also in Diyala, near the Iranian border, after a bomb left at a market exploded, Khaiyam said.
A roadside bomb killed 15 Shiites participating in an Ashura procession in Baqouba, the capital of Diyala, and injured at least 30 civilians, according to Brig. Sadoun Salih of the Interior Ministry.
Violence targeting Shiites also broke out in Baghdad. A roadside bomb in the sprawling Shiite enclave of Sadr City struck an Ashura procession, killing seven people and wounding 23, Salih said.
In other neighborhoods, gunmen fired Katyusha rockets at processions and used machine guns to attack passing buses heading to Karbala, Salih added. He said at least three people died in those incidents.
Meanwhile, at the scene of a fierce daylong battle Sunday near Najaf between the followers of a Shiite cult leader and Iraqi and U.S. troops, a clearer picture of the group emerged Tuesday as Iraqi investigators explored its village. A Washington Post special correspondent toured the site.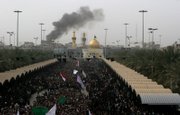 The village, home to at least 700 people, had several brick houses, a large tented area where meals were served, a printing press used to publish a newspaper and stockpiles of dry food. There were also a small mosque and dozens of vehicles.
After two days of varying estimates, Iraqi officials said Tuesday that 263 members of the group were killed in Sunday's battle.
Iraqi officials said they were still sifting through conflicting accounts of the leader's background and motivation. The man, identified by a spokesman for the prime minister's office as Samer Abu Qamar, claimed to be the 12th imam, a messianic figure who Shiites believe will re-emerge after a centuries-long disappearance to restore order and justice in a war-weary world.
Ahmad Diabel, a spokesman for the Najaf provincial government, said investigators believe that the group, known as the Soldiers of Heaven, received funding from al-Qaida in Iraq.
American soldiers confiscated perhaps as much as $10 million in U.S. currency from the compound, where the bodies of dead cultists still littered the ground.
Copyright 2018 The Lawrence Journal-World. All rights reserved. This material may not be published, broadcast, rewritten or redistributed. We strive to uphold our values for every story published.