It was about 9 degrees outside. The wind was blowing and the streets and sidewalks were covered in snow and ice.
As fans hurried inside Allen Fieldhouse on Jan. 15 to watch the men's basketball game against Missouri, a group of people huddled in a nearby parking lot along Naismith Drive. They asked passers-by, almost in whispers, "Got any tickets?" "Need tickets?"
The scalpers were paying no more than $25 for extra tickets that Kansas University fans were willing to sell. The face value of the tickets was $45.
But to those looking to buy, one scalper offered a general admission ticket for $90. Another was selling two reserved seats for $200.
The ticket scalpers, a staple of sporting events for years, are once again in the KU athletic department's crosshairs. And it's not just traditional ticket resellers who are coming under scrutiny. Faculty and staff who resell their tickets online soon may face concerted efforts to halt their activities as well.
An age-old method
Two years ago, the KU athletic department decided it had enough of ticket scalping outside its venues.
The KU Public Safety Office was instructed to be on the lookout for those reselling tickets on campus as violators of a KU policy against trespassing, but it hardly seems to have made much of a difference.
On any given game day, a dozen or more individuals offer to buy and sell tickets to any takers.
Capt. Schuyler Bailey, KU Public Safety Office spokesman, said his officers must witness a transaction in order to take action. Whether the officers are even looking for scalpers depends on what other assignments they have, he said.
"It doesn't get pushed down as a priority, but there are only so many of us," he said. "This is a new change in procedures - a change in mind-set. It's going to take education to stop the selling."
Ticket scalpers can face punishments ranging from a request to leave the premises to a citation and fine. City prosecutor Jerry Little said the fines and punishment are typically about $150 and unsupervised probation, but can range up to $500 and a year in jail.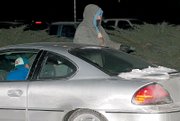 Stopping faculty resellers
The KU athletic department is formulating a new policy, which likely will include punitive measures, prohibiting all faculty and staff season ticket holders from reselling their men's basketball tickets, said Jim Marchiony, KU associate athletics director.
Essentially, the athletic department's position is that the tickets being provided to faculty and staff are sold to them at a discount because of their relationship to the university. The tickets are for the express use of faculty and staff, and their friends and relatives, Marchiony said. No one should be allowed to profit from the reduced sale price, he added.
"We're going to address that much more clearly and completely," Marchiony said. "There's a difference between faculty and staff doing it and season-ticket holders doing it."
Chris Orwoll, who has been on the KU faculty for several years, sells his tickets on eBay to games he can't attend. His seats are in the northeastern corner of Allen Fieldhouse.
He's sold his two tickets for as low as $45 and as much as $600. He pays about $1,500 for two tickets for the entire season, he said.
Season tickets are regularly priced at $1,800 per ticket, plus a mandatory donation to the Williams Fund. The minimum donation, $100, will generate seats in the upper-level corners, while faculty seats are generally in the corners over the tunnels.
Orwoll said the athletic department's letters - which have urged him not to resell his tickets - haven't coaxed him to change his ways, although he said he could see the department's point.
"At the same time, though, I can't use all my tickets," he said. "For people who are Williams (Fund) donors, I don't think they should have any control."
Online options abound
It doesn't take more than a minute and basic knowledge of Google to find tickets to virtually any KU men's basketball game - or any local or regional sporting event, for that matter. Navigate over to eBay and more options abound. There's even an option operated by KU; however, to use it, there are some serious restrictions.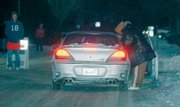 Lots of tickets for sale - many selling for more than the cost printed on the ticket.
One eBay user - jcaywea - had seats to two games available for sale. Two tickets to the March 3 Texas game, for seats in the upper northeastern corner, are selling for more than $75 each. Face value on the tickets is $45.
It's not so simple, though.
"Ticket face value for KU basketball tickets is misleading, because they require a large donation," the user wrote in an e-mail. "If you sold the (two) tickets for $90, most people would be losing quite a bit of money."
She said she has sold tickets to a number of games that she was unable to attend over the years, ranging in price from $20 to $150 apiece.
A few weeks ago, the athletic department launched its own online Ticket Marketplace. According to Marchiony, "upper-level Williams Fund members" can post their season tickets online for resale.
The tickets are sold for as much as 115 percent of face value, $51.75 per seat per game, with the seller retaining the full face value of the tickets, $45, and the department's ticketing company retaining a 15 percent service charge, or $6.75.
In order to purchase tickets, an individual must register with the athletic department and be a donating member of the Williams Fund or purchase a $50 membership. The University of Oklahoma has a similar system, limiting the final sales price to 15 percent above face value, OU spokesman Kenny Mossman said.
Law and policies
The eBay user - jcaywea - is not the only one who insists the value of a season ticket is more than what's printed because of the Williams Fund donation requirement. It's a popular argument for why the university has no business trying to stop those who sell tickets on the street.
Marchiony's argument is that if no one wanted to donate money, the athletic department still would sell tickets to the events - meaning that the donations are not an addition to the price, but rather a way to set an order for who may purchase tickets first.
"If 16,000 people wanted to buy season tickets and none of them wanted to donate money, we'd still have to seat the building," he said.
Donations range from the minimum, $100, up into the tens of thousands of dollars or more. The vast majority of these donations, 80 percent, are tax-deductible as contributions to an educational institution.
The more that's donated, the more perks - including where seats are located - are accumulated.
Other universities - Notre Dame for instance - have policies strictly prohibiting any reselling of season tickets. Some - like Kansas State, Texas A&M; and Southern California - choose to endorse Web sites like www.stubhub.com for ticket resales. Stubhub.com does not limit the resale price.
Recently, the Kansas Speedway began advocating for a law that would make it the only lawful vendor of tickets to the racetrack in Kansas City, Kan. The legislation is yet to be introduced in the Kansas Legislature. Similar legislation several years ago would have placed limits on all events statewide, but was unsuccessful.
There is no law, however, that prevents an entity such as KU from limiting who may buy and sell its tickets. Essentially, KU could choose not to sell tickets to someone who breaks its rules.
Copyright 2018 The Lawrence Journal-World. All rights reserved. This material may not be published, broadcast, rewritten or redistributed. We strive to uphold our values for every story published.