Topeka — These aren't the Lions of December.
This isn't the Lawrence High girls basketball team that suffered a 24-point whipping from crosstown rival Free State High a month ago.
These are the Lions who won the Capital City Classic with a 42-38 victory over Topeka Seaman on Saturday afternoon in the Topeka High gym.
"I think people will open the newspaper and be surprised," Lions' coach Kristin Mallory said. "We were 4-4, and now we've won five in a row."
Three of those five wins came in the Capital City Classic, the first tournament the Lions have captured in Mallory's six years as coach.
"It's something to hang our hats on," Mallory said. "There are a lot of good teams that don't win championships."
Lawrence (9-4) won this one as the No. 3 seed. The Lions disposed of Kansas City Wyandotte on Thursday and Blue Valley on Friday to earn the shot at Seaman.
"It was certainly ugly," Mallory said of the low-scoring finale. "I think playing three days in a row had something to do with it : that and them sagging in on us defensively."
Points were at a premium in the first half. Each team went into the break with just 17.
"We talked in the locker room that we had 16 minutes to play," Mallory said, "and we have a chance to win a championship."
Photo Gallery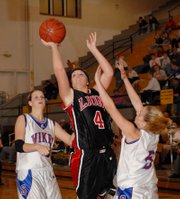 LHS girls vs Seaman
In retrospect, the first three minutes of the third quarter were decisive. After Breanna Lewis, a 6-foot-5 giant, gave Seaman a 19-17 lead seconds after intermission, the Lions went on a 9-0 run, hitting four consecutive shots - a pair of two-pointers by Taylor Bird, a three-pointer by sister Danielle Bird and another two from Tania Jackson.
Suddenly, the Lions were ahead 26-19, and the Vikings were forced into a catch-up mode. Seaman never regained the lead, but the Vikes came close.
Early in the fourth quarter, Syndei Tolefree's pair of charities gave the Lions a 34-26 cushion, but the last minute was full of tension.
Aubree Gustin, a 6-foot senior who finished with a game-high 21 points, drilled a three-pointer at :47 to cut the Lions' advantage to 37-35. Then, with :31 on the clock, Gustin hit another trey, and Lawrence's lead had diminished to 39-38.
It was anybody's game.
Seaman had to foul, and, as it turned out, the Vikes fouled the player Mallory wanted most at the free-throw line - junior Danielle Bird.
"I said, 'Dan, we've got to have these,'" Mallory recalled. "I said, 'You've got to step up,' and she did."
Bird had misfired on a pair of charities minutes earlier, but not this time. Both were dead-on.
"I tried not to think as much this time," Bird said. "I just knew I had to make them."
With the Lions on top, 41-38, the Vikes still could forge overtime with a three-point goal, but for some reason guard Shannel Millard drove the lane and lost the handle, and Lawrence's Abby Vestal grabbed the loose ball under the basket.
"It bounced in front of me," Vestal said. "I just held it because I knew they would foul me."
The clocked showed :06.1 when Vestal went to the foul stripe. The senior forward missed the first attempt, but moments later she clinched the championship by making the second.
"I told myself I can't miss the second one," Vestal said.
A last-ditch three-point attempt by the Vikes' Aubrey Horton clanked off at the buzzer, and the Lions erupted.
"It's : it's, I don't know : ," Danielle Bird said. "It's awesome. None of us has ever won a tournament before."
While Gustin and Lewis accounted for all but seven of the Vikings' points, six Lions scored. The Bird sisters were the pacesetters - Taylor with 12, Danielle with 11.
The Lions can celebrate until Friday, when they return to Sunflower League competition at home against Olathe East.
Copyright 2018 The Lawrence Journal-World. All rights reserved. This material may not be published, broadcast, rewritten or redistributed. We strive to uphold our values for every story published.