The basketball duo performed just like they had so many nights under the Haskell Stadium lights.
Late in the third quarter, Lawrence High's quarterback, Chance Riley, lofted an alley-oop pass to his No. 1 receiver, Nathan Padia, who reversed it for a layup.
"It was a little short," Riley said, "or else he would've been able to throw it down."
But before the Lions' "Jungle" crowd could jump to its collective feet, Kansas City (Mo.) Hogan Prep Academy's Marcus Denmon nailed a three, igniting a 13-0 run to push his team to a 67-63 victory Friday night.
Although the Rams outscored the Lions, 21-8, in the third quarter to establish a lead they would not surrender, LHS responded with one last gasp in the fourth quarter.
Hogan led, 64-54, with 36 seconds left. But Riley, who said Lawrence's end-of-the-game theatrics during Saturday's 64-63 win Topeka High filled him with confidence, ignited a comeback.
"I just got open looks," said Riley, who led all scorers with 23 points. "And I finally started hitting them."
The senior swished a three, and then Hogan committed a five-second violation on the ensuing inbound play. Riley hit another three with 26 seconds left to cut the lead to 64-60. The Rams' Ravin Simpson followed with a layup, but Riley's final three of the night made it a one-possession game. Denmon then hit one of two free throws, and LHS guard Dorian Green turned the ball over, sealing the Rams' win.
The Lions (7-5) played like the better team early, leading 22-17 after one quarter and 36-34 at the half. Hogan (13-5) then exploded in the second half despite stout defense from LHS.
Photo Gallery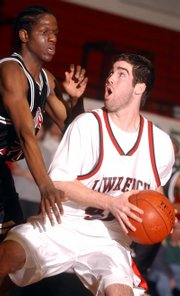 LHS vs. Hogan Prep
"We gave them some real problems for a while," LHS coach Chris Davis said. "They just started hitting on all cylinders."
Terrance Hill and Denmon paced that charge, scoring 21 apiece.
"They're an extremely athletic team," Davis said. "And they had a couple of guys we just couldn't shut down."
Denmon, a Division-I prospect, transferred from Lincoln College Preparatory Academy and only has played in seven games this season. He displayed an ability to make shots and set up his teammates.
"Denmon's a great guard," Padia said.
The Lions opened in man-to-man defense, with the athletic 6-foot-5 Padia guarding Denmon, but they played a zone defense for much of the game to slow a very athletic and transition-oriented Hogan squad.
"We ran multiple defenses at them," Davis said. "As soon as they got comfortable with one, we'd switch out of one and do something different."
Those tweaks slowed Hogan early on, but eventually the talented Rams prevailed.
Copyright 2018 The Lawrence Journal-World. All rights reserved. This material may not be published, broadcast, rewritten or redistributed. We strive to uphold our values for every story published.