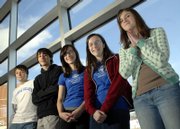 You might want to avoid getting into a war of words with Wes Phipps, Sarah Robinson, Kate Falkenstien or Cori Allen.
Chances are, the four Free State High School juniors could verbally slice and dice you with razor-sharp arguments. They recently won the Class 6A State Four-Speaker Debate Tournament.
The Firebird team brought home its first state trophy last weekend from Blue Valley High School in Stillwell.
In that tournament, which featured eight schools, Free State's two teams had 12 wins and two losses.
Phipps and Robinson were on the affirmative team, which won six of its seven rounds. Allen and Falkenstien were on the negative team, which also won six of seven rounds. Brian Leatherwood, a senior, served as an alternate.
"It was a lot of fun," Phipps said Wednesday about the season. "All the debate people are cool. I've made a lot of friends."
Phipps said he has developed a lot more confidence in his speaking ability.
"I do like to talk about politics," he said, laughing. "I'm planning on going into law. ... I might want to be an ACLU lawyer."
Jo Ball, the school's debate and forensics coach, said Phipps has worked hard to prepare during the debate season with his affirmative case, which ended last weekend with the state tournament.
"He truly is devoted to the activity and I think he has fun with it," Ball said. "I've had only a couple of kids I've ever seen work as hard as Wes does."
Phipps and Robinson debated together last year and won the Novice State Debate Tournament, which included 121 teams.
Robinson "can speak like nobody's business," Ball said.
"She has a great speaking voice, is able to come in and pick something up and make it sound like it's the God's honest truth, even if she's not sure of it herself," Ball said.
Ball said Allen, a first-year debater, "stepped up and has amazed us all with how quickly she's picked up on debate jargon, debate lingo and how to structure and how to argue in the manner that's expected in a competitive debate," Ball said.
Allen and Falkenstien have the ability to think quickly, Ball said.
Phipps' regular debate partner is Falkenstien, who "works her tail off for this program," Ball said. "They have spent countless hours doing research in my room, doing research at home and exploring new arguments to make."
Falkenstien said she's found that it helps to be as prepared as possible.
"I think one of the most amazing things that debate gives you is confidence," she said. "It teaches you how to make arguments better and how to be more logical and organized about your thoughts."
Copyright 2018 The Lawrence Journal-World. All rights reserved. This material may not be published, broadcast, rewritten or redistributed. We strive to uphold our values for every story published.