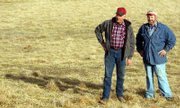 Hobart Lutz wanted a solitary retreat near Lawrence.
So in 1935, he bought 750 acres of land around what is now North 1150 Road. The cabin he built and visited most weekends in southeast Lawrence was a place where he could enjoy the peace of the outdoors, where wildlife was still plentiful.
Now, more than 70 years later, his descendants continue to care for the land in a way that fosters that same natural environment.
Lutz' daughter, Laurel Holladay, will be honored with a Buffer Award from the Douglas County Conservation District and Jayhawk Chapter of Quail Unlimited today for work on the property she inherited. So will Stephen Crawford, Lutz' grandson. He inherited a share of the Lutz land when his mother died in 1995.
Their properties, divided by Wakurusa Creek, are operated by Roger and Ralph Kitzmiller, who sowed the native grasses that qualified the families for the award.
"The grass keeps the soil from eroding into the creek and keeps farm chemicals from washing into the creek," said Holladay, a retired schoolteacher.
"It's meant to encourage wildlife that likes the tall native prairie grasses," she adds. "Right now it's kind of sparse, but when it's established, it's great."
Holladay and her husband, Gary, own 139 acres of land that are planted in corn and soybeans. More than 5 acres of native grasses have been planted on their property.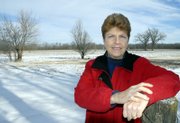 Crawford and his wife, Bonnie, own 90 acres of cropland, also with rotating corn and soybean crops. Nearly 7 acres of native grasses were planted on their land.
Crawford has enrolled 10.4 acres of land in the Wildlife Habitat Incentives Program, a voluntary program for people who want to develop and improve wildlife habitat primarily on private land. Participants can receive both technical and financial assistance to improve or develop terrestrial or aquatic habitat on their land. Native grasses have helped cultivate that goal.
"It's very wildlife-friendly," Crawford said. "Basically, rather than planting crops right into the edge of the woods, you have a transition area there. It gives quail and different animals grass to hide in."
Already, he's seen the effects of enacting different program strategies.
"I drove by that area a month ago with my wife, and we saw a group of turkeys near the creek," Crawford said. "That's the first time I've ever seen that.
"The plans are more friendly to wildlife, rather than trying to get every penny you can out of planting crops."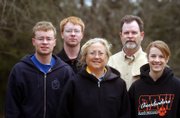 About the awards
Each year the Douglas County Conservation District awards are given to farmers, their spouses and landlords who have done an outstanding job of soil conservation. Winners are selected by a committee made up of the NRCS district conservationist, the chairman of the board of supervisors of the conservation district, the Farm Service Agency county executive director, the chairman of the FSA committee, a key banker, the chairman of the Extension Council Executive Board and the agricultural extension agent.
A tour is given of all the farms nominated, and winners are selected. The committee looks for farmers who have completed their farm plans and are using conservation methods such as contour farming, terrace maintenance, conservation tillage, crop residue, grassed waterways and field borders.
Because the award is highly visible, the committee feels that these farmers are examples to others and will be looked on with the highest acclaim.
Copyright 2018 The Lawrence Journal-World. All rights reserved. This material may not be published, broadcast, rewritten or redistributed. We strive to uphold our values for every story published.