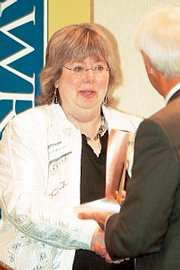 Winning the Excellence in Commerce Award for technology topped a busy year for Pinnacle Technologies Inc., a Lawrence design and production engineering firm.
It includes more than $1 million in new contracts and moving to a new site at 2721 Ore. And it concludes a 356 percent increase in business at the five-year mark.
Business isn't about to slow down, president Donna Johnson said.
"We're in a major transition where we're starting to take the products we've developed and put them on the market," she said. "So I'm really hoping in five years we have doubled or tripled where we're at right now."
With a $1.1 million contract with the National Institutes of Health, Pinnacle has built electronic sensors that help researchers measure brain waves in mice and rats to measure drug and behavior changes.
"There are more than 75 sleep diseases and disorders," Johnson said. "How do you find what's underlying those things? We want to help researchers understand them better."
Pinnacle's endeavors also include a $750,000 contract with the Department of Defense.
"We also offer our industrial control systems. ... We're looking at redoing parts for a strike fighter, the newest plane coming out for the military."
Johnson said there's a range of services that Pinnacle offers clients. Other products include SC Johnson Scrubbing Bubbles Automatic Shower Cleaner, a golf teaching aid and battery "smart" charges.
She appreciates what role the Chamber has played in the business community.
"The Chamber has helped us by promoting technology in the area and technology companies," she said. "They're really pushing on the biotech side, and quite a lot of our activity is in the biotech arena."
Other finalists
Manufacturing/Distribution: Berry Plastics, Sauer-Danfoss Company. Retail/hospitality: The Eldridge. Service: Bert Nash Mental Health Center, Douglas County Bank. Technology: Netopia. Small business: Ameriprise Financial, James Otten, DDS. See text and video presentations from the Oct. 3 awards.
Copyright 2018 The Lawrence Journal-World. All rights reserved. This material may not be published, broadcast, rewritten or redistributed. We strive to uphold our values for every story published.