The mission of Leadership Lawrence is to inspire and strengthen active leadership in our community. The program is set up to provide participants with at least seven opportunities, through one-day sessions, to learn about different aspects of the community.
Each session has a theme and is organized to give participants an overview of the services available in the community. The session topics covered are education, health and human services, arts, media, government, business and industry, and community leadership. The sessions are jam-packed with information and leave one feeling energized to get involved with the many different organizations.
Leadership Lawrence has provided a tremendous opportunity to learn about the community in which I live and work. The program provides a crash course in learning about the various organizations and programs available to residents. These programs make our community attractive to individuals and families for many reasons.
My position at the Lawrence Chamber of Commerce is to market our community to businesses. This may happen in the form of attracting new businesses, retaining or expanding current businesses, or assisting with entrepreneurs that want to start their own business. Having a basic knowledge of the services that are available to those businesses is essential in marketing the community.
Companies interested in Lawrence need information regarding everything from work force statistics, available buildings, housing, health care, education opportunities and recreation alternatives. Companies are becoming increasingly more interested in what is available for their employees and their families, including resources for their children as well as senior care. Employees with available options for their family are often times happier and more efficient workers when on the job.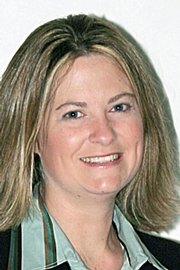 Leadership Lawrence has allowed me to increase my knowledge of the services and organizations throughout the community that are important to use when marketing the community. Another benefit to the program is the desire to become more involved with the local initiatives. The various sessions during the Leadership Lawrence program encourage students to get involved by volunteering. The program prepares graduates to implement our leadership skills at home, in the workplace, as well as in the business and civic organizations with which we are associated.
The classes also allow the participants a chance to discuss with one another the issues that are facing our community. We talk about the future of our area as well as the opportunities and problems that we face. The sessions provide an opportunity for us to discuss possible solutions to the problems and issues. To this point, we have only completed about half of the sessions and we have continually heard comments from speakers and organizations regarding the need for vision and planning for the future. This is a topic that is very important as it is also an issue facing our local community.
Personally, my Leadership Lawrence experience has allowed me to receive a different perspective in learning about the many aspects of Lawrence and Douglas County. Through my first year at the Chamber, I have learned a tremendous amount about the community and services we have to offer to residents and businesses. However, through my leadership training, I am learning to look at issues from different perspectives. These perspectives help to create a fuller picture when examining issues that affect our community. It has also allowed me to develop friendships with my classmates that are beneficial for more than just the time spent in class. Many of my classmates I see outside of class as we work together to make our community a great place in which to live, work and play.
Class members for 2007
The class roster for the Lawrence Chamber of Commerce's Leadership Lawrence program already includes some established leaders.
Douglas County Dist. Atty. Charles Branson, Lawrence-Douglas County Fire & Medical Chief Mark Bradford and Alvamar Inc. General Manager Dick Stuntz are among 30 area residents introduced last fall as members of the leadership program, in its 25th year.
Leadership Lawrence's eight-month training program began with an alumni reception Sept. 28. The program's goal is to inspire and strengthen active leadership in the community.
Class members for 2007 are Scott Braden, Commerce Bank; Bradford; Branson; Rebecca Carl Stutz, community volunteer; Hugh Carter, USB Financial Services; Lt. Shaun Coffey, Lawrence-Douglas County Fire & Medical; Sara Dawson, Charlton Manley Inc.; Debra Drummet, Capital City Bank; Martha Fairchild, Lawrence Memorial Hospital; and Michelle Fales, Peoples Bank.
Also: Karin Feltman, Lawrence Memorial Hospital; Ranelle Fischer, Emprise Bank; Kerry Glasgow, Kansas University Endowment Association; Beth Johnson, Lawrence Chamber of Commerce; Dena Johnston, TherapyWorks; Patrick Knorr, Sunflower Broadband; Heather Krase-Minnick, Douglas County District Court; Peggy Leslie, Douglas County Bank; Chad Luce, Westar Energy; and Lori Madaus, city of Lawrence.
Also: Christopher Marshall, Callahan Creek; Leslie Miller, Stevens & Brand LLP; Jennifer Morgison, Capitol Federal Savings; Hal O'Donnell, Intrust Bank; Jane Pennington, Lawrence Community Theatre; Mary Rodriguez, Lawrence public schools; Stuntz; Debra Thompson, Haskell Indian Nations University; Ed Wheatly, ICL Performance Products; and Sara Wilhelm, Lawrence Journal-World.
- J-W Staff Reports
Copyright 2018 The Lawrence Journal-World. All rights reserved. This material may not be published, broadcast, rewritten or redistributed. We strive to uphold our values for every story published.