Kansas University's Spencer Museum of Art will take over stewardship of almost 10,000 ethnographic artifacts that are in Spooner Hall.
The collection includes American Indian, African, Latin American and Australian artifacts that have been limited to viewing only for scholarly research since 2002 when the Museum of Anthropology closed because of budget cuts.
"The public's access to these collections will inspire new ways of thinking as well as new ways of creating art," said John Hoopes, a KU associate professor of anthropology.
Saralyn Reece Hardy, the Spencer's director, said the collection will remain in Spooner as the art museum staff plans its expansion. A new cabinet system will be installed in March to help store the collection in Spooner, she said.
Hardy said the collection is accessible by appointment either for research or viewing.
The Spencer and KU plan to announce today that Tom Foor will be interim curator of art and culture of the Americas and Africa to oversee and conserve the collection. Hardy also said the Spencer would conduct a national search for the full-time position.
Foor, a University of Montana emeritus professor of anthropology, has worked for KU during the past year on repatriation of some of the artifacts to rightful owners under federal law. He said he has returned about six pieces to owners and that he was looking at about 3,600 native North American pieces that could be subject to repatriation. But he believed the total amount returned would not be a large number.
Foor said Spencer would provide "a lot of stability" for the artifacts.
"People have been worried the last few years - not really knowing what was going to happen," he said.
The collection includes 19th and early 20th century objects, like Central African masks, American Indian weavings and cradle boards, Australian boomerangs and bark paintings, and Greenland Eskimo clothing. It also includes artifacts collected by Sallie Casey Thayer and Lewis Lindsay Dyche.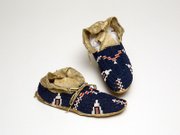 "What's really compelling and exciting for the university and certainly for the Spencer is the chance to broaden the kinds of objects that we have, to have an inclusive framework for art, and to think of objects around the globe as having power and meaning," Hardy said.
Spencer staff members can incorporate the artifacts into more exhibitions, she said. She also hopes to consult with various KU academic departments and Haskell Indian Nations University on the exhibits.
The added exposure will help encourage more research of the objects in different disciplines, Hoopes said.
Months before Foor arrived at KU one year ago, the university had received criticism about how it cared for, particularly, the American Indian artifacts. Some of the criticism came from graduate students involved with the Center for Indigenous Nations Studies and the museum studies program.
"I think it's fair to say a big proportion of the collection consists of Native American objects," Hoopes said. "And I also think it honors those cultures to have them be a part of the Spencer museum."
Copyright 2018 The Lawrence Journal-World. All rights reserved. This material may not be published, broadcast, rewritten or redistributed. We strive to uphold our values for every story published.