In the two years since her daughter took her own life, Kathy Mitchell said the community has done little to help those who need long-term crisis care.
"I don't want other people to go through what I've gone through the last two years, the pain I've felt. That's why I've come forward," Mitchell said.
Mitchell has filed a lawsuit against those she alleges caused the wrongful death of her daughter, Brianna Mitchell, by turning her away in her time of need.
The lawsuit, filed in Douglas County Court on Jan. 10, lists Lawrence Memorial Hospital, Bert Nash Community Mental Health Center and two individuals as defendants. She is seeking $750,000 in damages.
Gene Meyer, LMH president and CEO, said he could not comment on the lawsuit.
"Our position is that we wouldn't be able to comment on it until we have seen it, and we have not seen it," Meyer said.
David Johnson, Bert Nash CEO, said he also was unaware of the lawsuit and could not comment.
Two years ago, Brianna Mitchell showed up at the hospital emergency room, saying she felt suicidal.
With no inpatient mental health facility to keep her in and no way to get her to a state inpatient facility, hospital officials told her to go home and come back the next day, according to Mitchell's lawsuit. The next morning she was treated for an overdose of drugs and alcohol.
After four days in the hospital's intensive care unit, Brianna Mitchell died. Her death was officially ruled a suicide.
Since the hospital's inpatient mental health unit closed in April 2004, the city and county have been without a way to keep and treat people with a mental crisis, Mitchell said.
The hospital recently opened the Crisis Stabilization Center as a branch of the Emergency Room to help those in crisis. The outpatient service has served between 40 and 70 people a month, but hospital officials have said there are no plans to reopen an inpatient mental health wing.
Task force formed
In May 2005, the Douglas County Community Health Improvement Project organized a mental health task force to look at how to effectively provide inpatient services to county residents in crisis.
More than a year later, in the task force's report to CHIP leadership, it stated about 14 daily patients were necessary to have a fully functioning inpatient mental health unit. According to the report, the hospital's unit, when open, served about eight patients per day at its peak in 2002.
After the number of doctors willing to staff the unit declined, some workers, including the unit's program director, resigned, leading to the unit's closure, the report stated.
But several members of the task force argued that an inpatient unit in the county was still necessary. At the least, the report stated, a full-time planning committee should keep track of mental heath needs so the city and county could be prepared if the data showed an inpatient facility were necessary.
"Systematic data collection and analysis by a trained professional is required to paint a complete picture of the current mental health system in Douglas County and identify unmet needs," the report stated.
But some task force members said that since they gave CHIP leadership the report in July, little has happened.
In early November, CHIP Executive Director Janelle Martin sent a letter to the former task force members promising that the new mental health committee would be convened by the first of the year.
But as of Thursday, the committee had yet to convene and still did not have the full eight members the task force requested last July.
Martin said in an interview that the CHIP leadership group had spent most of the fall reviewing the task force's recommendations and that project members had been busy with the six other active CHIP task forces.
She said that the committee wasn't in place "100 percent," but that she hoped the full eight members would be in place by the end of the month.
When asked what members were in place, Martin declined to say.
"I think I'd like to be able to hold off on an announcement until we're ready to move forward," Martin said.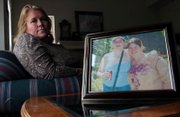 Process raises questions
Former task force member Alan Miller said he was unsettled by CHIP leadership's slow pace in putting the permanent task force together. So long as the group isn't up and running, Miller said, city and county leaders will be left in the dark about how many people in the county actually need inpatient mental health services.
Meanwhile, Miller said, expansion has already started at the hospital, basically ending hopes of opening a new inpatient mental health unit without giving the committee the chance to gather data to see if such a unit is necessary.
"It's almost like a conspiracy," Miller said.
Undersheriff Kenny Massey, a former member of the task force, said he was concerned that the task force asked for only another committee to look at the issue, rather than seeking inpatient services in the county - something he said the county still needs.
"I thought that the board reached a consensus that there was the need for inpatient services of some kind," Massey said. "(Another committee) wasn't what the community wanted."
Kathy Mitchell mirrored Massey's sentiment. She said that since the inpatient facility closed, nothing has happened in Lawrence at all, "except some people talking.
"That's why I filed the suit," she said. "I'm hoping it will wake them up."
Copyright 2018 The Lawrence Journal-World. All rights reserved. This material may not be published, broadcast, rewritten or redistributed. We strive to uphold our values for every story published.