Watch your step.
Icy sidewalks and parking lots are leading to a "remarkable" number of injuries this week, according to a local emergency room physician.
And the treacherous icy conditions are expected to continue for a few days, said Jennifer Schack, 6News meteorologist.
"It's even more dangerous when you start that melting process, slowly," she said.
As temperatures climb to 26 today, the sun will melt the top layer of the ice - but that just makes it wet and slick, Schack said. She said temperatures won't climb above freezing until Friday, when it hits 33 degrees.
Treacherous footing
"Just watch where you're walking."
That's the advice Mary Sims provided as she rested Tuesday afternoon in a bed in Lawrence Memorial Hospital's emergency room.
Sims suffered a dislocated shoulder after losing her footing on the ice about noon at the IHOP restaurant at 31st and Iowa streets.
"I should have stayed home today," Sims said, laughing. "My shoulder's feeling a lot better now. I'll probably be in a sling, I imagine."
Sims, a former Lawrence resident who retired and moved to Ottawa about a year and a half ago, said she had her mishap when she got out of her car at the restaurant.
"I took two steps and I knew I was in trouble," she said. "Boy I really flew. I hit my head, but not very hard. I really landed on my shoulder."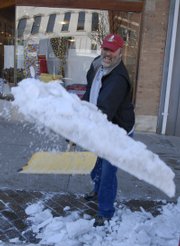 Sims said there were some young people around in the parking lot who came to her aid.
"One girl sat with me until the ambulance got there," she said. "Everybody was really nice out there."
Belinda Rehmer, an LMH communications coordinator, said the hospital had seen numerous patients in the last two days.
"We've seen between 20 and 25 patients in the last day or so that had specifically slipped on the ice," Rehmer said.
Variety of injuries
"It's remarkable how many injuries have occurred over the past three to four days," said Brian Hunt, an emergency physician at LMH.
People have been falling and hitting their heads, hurting their shoulders, fracturing their arms, dislocating their shoulders and fracturing legs, Hunt said.
"When they get out of vehicles, their legs go up underneath them," he said. "Age doesn't matter right now. We're seeing a wide range of people."
One man came in who had fallen and hit his head as he was walking from his house to his garage.
"He's getting a CAT scan of his head right now," Hunt said. "We see a potpourri of these during the winter, but never in such mass quantities. ... There are people who are going to need surgery to repair their injuries," he said.
Getting rid of it
The city's sidewalk ordinance requires homeowners to clear the snow away from the sidewalks adjacent to their property within 24 hours after the snow has fallen - or put sand on it if it couldn't be easily removed.
However, Brian Jimenez, code enforcement officer for the city, said he hadn't received any complaints about the ice still remaining on sidewalks.
Rick Gammill, director of special operations, transportation and safety for Lawrence public schools, said a parent fell Tuesday morning on the ice at the East Heights Early Childhood Family Center, 1430 Haskell Ave., but no ambulance was called.
Gammill said most of the ice had been removed from around schools, but it had taken longer because it had to be chipped away.
"Our guys worked all weekend long," he said. "The best way to get rid of the ice is warm weather."
Copyright 2017 The Lawrence Journal-World. All rights reserved. This material may not be published, broadcast, rewritten or redistributed. We strive to uphold our values for every story published.