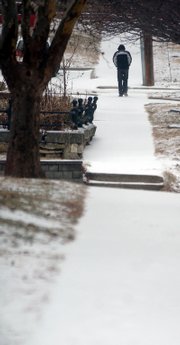 Pellets of precipitation pelted Lawrence for hours on Sunday, setting the stage for slippery driving and some generally crummy weather.
The precipitation, which threatened to continue through the night, capped a weekend of icy conditions in the area - a drastic change from previous weeks of above-average temperatures.
About one-fourth of an inch of sleet fell in Lawrence on Sunday, 6News meteorologist Sarah Jones said. And freezing drizzle was on the radar as midnight approached.
Roads could be as slick for morning commuters today as they were for drivers all weekend. In all, Lawrence road were packed with about an inch of sleet and ice this weekend, Jones said.
"It will still cause slippery roads," Jones said of the freezing drizzle. "We may see a few flurries, and that will be it."
In all, slick and slushy roads contributed to more than 30 car accidents over the weekend - including two a short time apart Sunday along Kansas Highway 10 near the Douglas County-Johnson County border.
Those two accidents - one a rollover that began just a few feet east of the county line - left passengers uninjured.
Only four wrecks this weekend resulted in injuries in the area, dispatchers said - none of which were life-threatening.
Road conditions were the same all throughout the area this weekend.
"We've had a lot of slide-offs and noninjury accidents, people just driving too fast for the conditions," said Roger Brown, a dispatcher with the Kansas Highway Patrol.
Jones said that the precipitation might be finished for a while, but the cold should stick around. Wind chills this week could fall to minus 10 during overnight hours until a warm-up Thursday and Friday.
"Temperatures will be a problem for the next couple of days," Jones said. "But we'll be back near the 30s after that."
Copyright 2018 The Lawrence Journal-World. All rights reserved. This material may not be published, broadcast, rewritten or redistributed. We strive to uphold our values for every story published.