A woman severely injured in a house fire Sunday night has died.
Alice B. Frye, a long-time Lawrence resident known as "Granmommie" and the oldest member of the Ninth Street Baptist Church, died Monday night from complications from her burns. She was 94.
"It's very sad that it happened that way," her son, Art Frye, said at her home Tuesday.
The fire was ruled accidental, Lawrence-Douglas County Fire & Medical Chief Mark Bradford said. Frye's family said that although the heat worked well in her home at 416 Wis., she would often turn on the burners of her gas stove for extra heat. The burners likely set her clothing on fire, they said.
"She was just cold," said Jane Barnes, her daughter. "She just wanted that heat."
Alice Frye was taken to Lawrence Memorial Hospital, then to St. Luke's Hospital in Kansas City, Mo., where she died.
Frye was alone at the time of the fire, her family said. Her grandson Calvin Barnes lived in the home with her but had stepped out a few hours before the fire began.
When Barnes returned, he told emergency dispatchers that the fire was out but that Frye was burned badly, Bradford said.
Inside Frye's kitchen, scorch marks charred parts of her blue countertops and kitchen cabinets near the sink. Bradford said there was evidence Frye tried to put the fire out before her grandson returned home.
By the time emergency crews got there, light smoke filled the home, Bradford said. Paramedics did what the could at the scene, but when they showed up Frye had suffered burns that Bradford described as "significant, both in surface area and severity."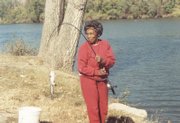 She was unconscious when crews transported her to the hospital.
Watching over her
Pastor Rene Brown from the Ninth Street Baptist Church had seen Frye a week earlier when he visited her at her home.
"She said she wanted to come to church," Brown said. "She said, 'Well, you've brought church to me.'"
Brown arrived at the hospital early Monday morning. He spent time with Frye while doctors waited for family to arrive.
Brown said he knew the severity of Frye's injuries and gave her last rites.
"It was a little tough on me," Brown said. "I think the family's been doing well, considering everything they've been through."
In those final hours, Jane Barnes stood next to her mother's bed, watching over her.
When she touched her mother's hand, she said, Frye would squeeze hers, flutter her eyes. She couldn't speak; the fire had taken her voice away.
"When the kids talked to her, she would start using her hand, trying to hold theirs," Barnes said.
'Granmommie'
Years ago, one of Frye's grandchildren couldn't quite say "Grandma," Jane Barnes said.
Instead, the child called Frye the name that would stick with her for years.
"Granmommie," they called her.
Born in 1912, Frye spent many years working at Kappa Kappa Gamma Social Sorority as a housekeeper, and worked at Sunflower Army Ammunition Plant during World War II.
In 1932, she married her husband, Robert K. Frye, in Garnett. He died in 1985.
The lady who loved so many things - her church, her family of 12 grandchildren and 21 great-grandchildren - enjoyed fishing.
"She loved to fish, and that's all she wanted to talk about," Brown said.
Brown, who has been her pastor at the church for 12 years, described Frye as a woman who wasn't afraid of worms, and who would rather clean her own fish after she caught them.
"She wasn't afraid of anything," he said.
In Frye's home, photographs of her life's loves fill the walls and tabletops. The most prominent: a photo of her wearing a red sweat suit and pulling a fish out of the water.
On an adjacent wall, a pegboard hangs filled with photos of all of Frye's grandchildren and great-grandchildren.
"She was a great mother," Jane Barnes said. "It was a very nice life with her grandkids."
Plus, Barnes added: "She loved to fish."
Winter safety
Certainly, Frye wasn't the only person who used a stove or oven to help supplement their heat during the winter months, Bradford said.
But the practice is hazardous not just because of the open flames, he said.
"It's extremely dangerous to use an appliance for heating purposes," Bradford said. "It's a carbon monoxide hazard. A range does not burn clean enough."
There are some devices, such as wood-burning stove inserts for fireplaces and some propane heaters, that work better for residents trying to supplement their heat.
But as always, Bradford said, people should have carbon monoxide detectors in their homes if they are going to use any such devices. And if it's an elderly relative, someone should always check in on him or her, he said.
Taking some precautions, Bradford said, could prevent accidents.
"As always, it's extremely difficult when we lose a life in this type of situation," he said.
Services
Funeral services for Frye will be at 11 a.m. Friday at the Ninth Street Baptist Church. Burial will follow in Oak Hill Cemetery.
Warren-McElwain is handling the arrangements, Brown said.
416 Wisconsin Street
Copyright 2018 The Lawrence Journal-World. All rights reserved. This material may not be published, broadcast, rewritten or redistributed. We strive to uphold our values for every story published.