A two-alarm fire displaced eight Lawrence residents Saturday evening as firefighters fought frigid temperatures and saved the other half of an apartment building from sustaining damage.
"The fire department did a great job in confining the damage so that only four units were impacted," said Jane Blocher, executive director of the Douglas County chapter of the American Red Cross.
At the Eddingham Place Condominiums near 23rd Street and Naismith Drive, everyone inside 1408 W. 24th St. escaped at 5 p.m. without injury, as did all residents inside the building, said Division Chief Rob Kort, of Lawrence-Douglas County Fire & Medical.
The fire started from a burning pan on the stove, and flames eventually engulfed the kitchen area and spread to damage the living room and a bathroom, Kort said.
Firefighters were able to contain the flames to that apartment. The other three apartments on the western side of the building had significant smoke damage.
Kort estimated $60,000 in damage to the building and about $20,000 worth of damage to contents inside.
Firefighters cleared the four apartments on the building's eastern side and allowed residents to return there at 6:30 p.m.
Fernando Rodriguez was one of the residents allowed back inside his undamaged apartment, but earlier he arrived home to see flashing lights and sirens outside his building.
"It kind of freaked me out because all I saw was this smoke coming out of my building," he said.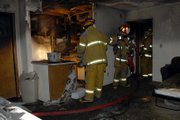 Eight residents accepted financial assistance for lodging, food and clothing from the Red Cross, Blocher said. One resident stayed with family members Saturday night.
Two of the residents were Kansas University students and were worried about being able to replace their books and possibly computers, Blocher said. Red Cross staff members will work with the KU Office of Student Success to resolve that.
County records list William Schulteis as an owner of the apartment building.
Blocher said apartment supervisors were working to find other lodging for the displaced residents once the Red Cross assistance ends.
The heavy smoke seeping from the building and the icy conditions forced firefighters to call for a second alarm, Kort said.
In a separate incident Saturday, Palmyra Township and Wakarusa Township firefighters fought a blaze at an out building at 686 E. 1719 Road in the county. No one was injured as firefighters had the fire under control after about an hour at 8:35 p.m., dispatchers said.
Copyright 2018 The Lawrence Journal-World. All rights reserved. This material may not be published, broadcast, rewritten or redistributed. We strive to uphold our values for every story published.