Columbia, S.C. — Tre' Kelley didn't circle the University of South Carolina's annual bloodbath rivalry game against Clemson when first handed his 2006-07 Gamecock pocket basketball schedule.
He didn't put magic marker to marquee matchups against Kansas University and Southern California or Southeastern Conference contests versus Florida and Kentucky.
The game that most intrigued the 6-foot, 188-pounder was way at the bottom of the slate - against a yet-to-be-determined foe.
"The first round of the NCAA Tournament," Kelley, USC's best player and one of the top point guards in the country said Oct. 10, just a few days before the Gamecocks' Midnight Madness, when asked which contest he was most looking forward to his senior season.
The NCAA Tournament remains the only logical goal for Kelley, who led the Gamecocks to consecutive National Invitational Tournament championships - yep, that "other" postseason tourney - the past two seasons.
His hopes of advancing to March Madness would receive a major boost with a victory over Kansas today.
Tip for a marquee matchup between No. 9-rated KU (12-2) and the unranked Gamecocks (10-2) is 3:30 p.m. at Colonial Center with a live telecast on CBS.
"I don't think it was a disappointing season because we won the NIT for a second year in a row," Kelley said of last year's 23-15 campaign. The Gamecocks went 20-13 in 2004-05, a record that included a 64-60 loss at KU.
"This year we have to make it out goal to get to the NCAAs and win a championship along the way. I'm a point guard who has the potential to lead his team to the NCAAs. If I'm here, I think we can make it."
Kelley - nobody knows how long he'll be able to go today because of a sprained left knee that forced him to miss the first a game for the first time in his career Wednesday - averages 16.8 points off 45.3 percent shooting and 5.3 assists a game.
He and senior forward Brandon Wallace lead a team that is expected to - when is all said and done - possibly be on the NCAA Tournament bubble again.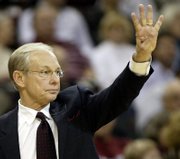 "My team and I are committed to the best that Gamecock basketball can offer," said Dave Odom, the former Wake Forest coach who is 110-72 in six seasons at South Carolina.
"Where that leads each year nobody knows, but I fully understand the importance of earning the right to play in the NCAA Tournament. I told the team that ship is sailing and they better get on it, but they can't get there by themselves.
"It takes a cooperative effort and to criticize or pick apart players (for not getting there before) would be foolish on my part right now."
Kansas coach Bill Self said he thought the Gamecocks - who have defeated South Carolina State, Southern California, Lipscomb, Citadel, College of Charleston, Baylor, Princeton, UNC Asheville, Jacksonville and Western Carolina and lost to UC Irvine and Clemson - would wind up in the NCAAs.
"If you are winning that tournament," Self said of the NIT, "you are plenty good enough to be in the other tournament. "They certainly have played well in that tournament after being a bubble (NCAA) team the last two years.
"Dave Odom is a great coach who finds a way to keep all the games close. Last year they beat Florida two of three games, and the one they lost they held Florida to 49 points (49-47).
"We know how good a team Florida had," Self added of the national champions. "That's how close they were."
Wallace, a 6-9, 203-pounder who played some point guard in Kelley's absence Wednesday versus Western Carolina, averages 11.9 points, while freshman point Brandis Raley-Ross contributes 10.0 tallies.
"Tre' Kelley ... to me it seems like he's been around as long as a lot of fans thought Aaron, Mike, Keith and Wayne were around," Self said of former four-year Jayhawks Aaron Miles, Mike Lee, Keith Langford and Wayne Simien.
"He's been there a long time. He was a very good player when South Carolina brought their team to Allen Fieldhouse a couple years ago."
Kelley and Wallace combined for 13 points off 4-of-15 shooting in the Jayhawks' narrow 64-60 win over the Gamecocks on Dec. 18, 2004.
It was a bittersweet victory for the Jayhawks, who battled back from an early 11-0 deficit.
Wayne Simien led the Jayhawks with 20 points, but also suffered a broken thumb that would keep him out a couple weeks. Ex-Jayhawk C.J. Giles shot the ball in the wrong basket that game, scoring two points for the Gamecocks.
"They do a good job on the defensive end, a good job in all facets of the game," Self said. "They certainly came in and played very well that day. We're looking forward to getting on the road and playing a very talented, well-coached team."
That team desperately is seeking an NCAA berth, not an NIT dynasty, this season.
"We are one team in our league that is in transition, even as the calendar turns. We've been struck with a series of injuries," Odom said of the injuries to Kelley and newcomer Chad Gray, who may redshirt because of turf toe.
"Yet I like our team. We are 10-2, not 2-10, not 6-6. There are a lot of good things about where we are as team. We have questions that need to be answered and quickly."
Copyright 2018 The Lawrence Journal-World. All rights reserved. This material may not be published, broadcast, rewritten or redistributed. We strive to uphold our values for every story published.