Hadley, Mass. — Her eyes wide, 5-year-old Naomi Burisov licks the frosting off her cupcake and settles into her favorite part of cooking class: Eating.
"Mmm, I like the chocolate," she says as she sits with 12 aproned children and their parents at a sold-out kids cooking class offered by her local Whole Foods grocer. "I love making all the stuff."
Forget swimming lessons and soccer, the latest trend in extracurricular activities for children ages 4 to 16 is cooking class. And not just any cooking class. There are culinary summer camps, cooking birthday parties, private cooking lessons, plus a plethora of new cookbooks for the young chef who aspires to be the next Rachael Ray or Bobby Flay.
"Part of what we are seeing is a trend in 'eatertainment' with all the cooking shows," says Stephen Hengst, spokesman for the Culinary Institute of America in Hyde Park, N.Y.
Indeed, kids even make up a large part of the audiences for cooking shows, says Mark O'Connor, a spokesman for the Food Network, noting that at book-signings and public events, kids flock to see celebrities like Ray and superstar chef Emeril Lagasse.
"Based on our Web site traffic, message boards, mail questions and telephone calls, we know that there are a major amount of kids watching from as young as 5 up to 15 years old," O'Connor says.
For the parents of budding chefs, getting kids in the kitchen for something other than meals is about capturing a bit of nostalgia, says Hengst. "They used to cook with their mother or grandma, but life is so hectic they don't have time to do the same for their kids. So they send them, or go with them, to cooking class."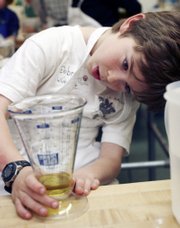 A menu of choices
Cooking classes for children were unheard of in past generations.
"When there was a parent at home, then they were making a more extensive dinner and the kids could be involved," says Katie Wilton, a Boston-area kids cooking instructor and author of "You're the Cook!" "But everyone is rushing around so much that no one is there to teach them basic skills."
Now parents are willing to pay big bucks for those skills.
Kids ages 8 and up can attend a six-hour class at the Culinary Institute of America for $170. In Washington, a 90-minute sushi class is $30. And for $50, your little darling can attend a two-hour class with the pastry chef at the Ritz-Carlton in Pasadena, Calif.
The classes may be expensive, but costs for teaching a cooking class are steep, says Gary Goss, author of the children's cookbook "Blue Moon Soup." "It's not a lucrative career and you need to charge a lot to cover the expenses," says Goss, who has taught kids classes and is trying to launch a kids cooking television show.
The class at Whole Foods, which doesn't include much hands-on cooking (kids decorate Christmas cookies or create "spiders" out of crackers, peanut butter, raisins and pretzels) is an unusual bargain subsidized by the food retailer. Offered at about 40 of its 190 U.S. stores, the class in Hadley, Mass., is $5 for adults and $2 for children. Whole Foods uses the class to promote its own foods, and parents, shopping after class, spend enough on groceries to make up for the costs.
Once you find a class, the trick is being able to get in. "Kids classes sell out before any of our adult classes," says Hengst. "They are almost instant sellouts, and we are always adding new ones to meet the demand." At Whole Foods, the class has a waiting list. And at the Ritz-Carlton, parents are urged to sign up their child before the class is even scheduled.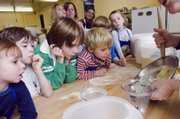 America's next top chefs
Developmentally, children as young as 18 months like being in the kitchen, helping pour and stir.
Matt Boulanger, who teaches the monthly Whole Foods class, said ages 6 to 8 are ideal for the parent-child class. "The little ones like to get a little messy," he said.
At the Culinary Institute of America, students must be at least 8 to attend. "That is when many are ready to learn about knife safety," says Hengst.
Kids feel empowered cooking for themselves.
Lucy Florman, 13, of Brookline, Mass., started cooking lessons about two years ago and has amassed a collection of cookbooks. "I feel accomplished when I make something," she says. "It's fun creating a meal and seeing how it comes out."
Friends notice her skill in the kitchen, the same way they might notice talent on the athletic field or aptitude in math. "I know my friends think I'm brilliant at cooking, but I'm not. I'm not a beginner, but I'm somewhere in the middle. I like it that my friends are impressed."
Recipe for good eating, family time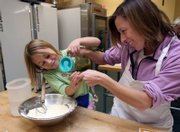 Meanwhile, parents appreciate the food education for their youngsters. "I like that it exposes her to different foods," says Naomi's mother, Patty Stokes, of South Hadley, Mass.
Kids tend to try foods in cooking class they would never eat at home. And then they repeat the recipe in their own kitchen.
With the rise in childhood obesity, some parents are turning to cooking class as a way to educate their children about portions and nutrition. Gregory Zifchak, an associate professor at the Culinary Institute of America, says "we've become a prepackaged, processed food society, where so many items in grocery carts are just heat and serve." Kids need real food and if they know how to make it, they'll eat better, he says.
Families also are attending cooking class for "quality time" together, he says. The parent-child classes allow families to spend time together without the interruptions of daily life. "Their lives are so busy that they use the six hours together in cooking class as time to catch up with each other."
Using her skills from class, Florman spends time with her mother cooking with adult and kids cookbooks. "It's just a nice, relaxing quiet time when I can work with my mom in the kitchen," she says.
So move over, Spanish lessons, gymnastics and learning the violin. Cooking class is the latest activity to get penciled in on the family calendar. "After all, cooking is a basic life skill," Zifchak says.
Copyright 2018 The Associated Press. All rights reserved. This material may not be published, broadcast, rewritten or redistributed. We strive to uphold our values for every story published.