Sunday night was a time to celebrate with old friends, get a little dressed up and look forward to 2007.
"For me, it's a good day that brings a fresh start," said Valerie Landwehr, who recently moved to Lawrence from Nebraska.
She celebrated with friends at The Sandbar, 17 E. Eighth St., during the bar's annual New Year's Eve party and waited for the midnight champagne toast.
Across Lawrence, revelers awaited 2007 at private and public celebrations. At most celebrations, they celebrated at midnight with champagne and some kisses.
But at one party, they welcomed the new year with toilet paper.
That's right. At the 14th annual "New Year's Eve Overnighter" for children ages 5 to 12, the 60 partygoers at the Holcom Park Recreation Center, 2700 W. 27th St., watched the ball drop on a projected screen in the gymnasium.
Then they flung the rolls all over the gym - and each other.
"That's fun, yeah. Also you get to trap yourself," said A'Shaune Edwards, 11.
She has attended the annual Lawrence Parks and Recreation Department event several times with siblings and her cousins. It's also fun because participants can stay up all night if they want, she said.
The party ends this morning.
Recreation staff members led the children through several activities, including karaoke, games and movies throughout the night. The event offers a safe and supervised environment during what is traditionally a busy night for families, said Duane Peterson, the city's special events supervisor.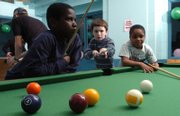 "It's an opportunity for the kids to bring in the new year if the parents are wanting to go out with adults," he said.
At the adult celebrations in Lawrence, partygoers broke out the noisemakers, hats and confetti. But mostly the night was about cherishing time with friends, some said.
Elizabeth Daniels, a 2005 Kansas University graduate, flew in from McAllen, Texas, to celebrate with three of her best friends at The Sandbar. Daniels now works for Teach For America.
"It's a chance for us to get together as friends, and it's a place that means a lot to us," Daniels said.
She made it to the party with KU graduates Lindsay Wilson, of Lawrence, and Lauren Priest, of Chicago, and KU senior Caitlin Feighny, of Topeka.
"We had so many good times here," Daniels said.
"The best nights of our lives here," Priest said.
The four friends waited for the midnight toast and prepared to welcome 2007 together.
Copyright 2018 The Lawrence Journal-World. All rights reserved. This material may not be published, broadcast, rewritten or redistributed. We strive to uphold our values for every story published.