Wichita — Five years ago, Mike Joyce was a lawyer in Oklahoma. That's when he met a client who had an idea - putting college logos on toothbrushes. Today, AllSportBrush sells millions of dental-care products every year with images like the Kansas Jayhawk and the Kansas State Powercat.
Those logos aren't just moneymakers for businessmen like Joyce. Kansas, Kansas State and Wichita State combine to make nearly $2 million a year licensing their logos for use on everything from T-shirts to toothbrushes. It's a market that has taken off in recent years as more products are branded with school images.
"There is more of a hunger for collegiate products in general," said Heath Price of Collegiate Licensing Co.
At Wichita State, success on the basketball court means more opportunities for revenue, and the school sorts through applications daily from people with creative ideas for the Shocker logo.
Key rings and birdhouses? Sure. Toilet seats and condoms? Nope.
Coffins? Maybe.
At stake is a potential financial windfall as loyal fans gravitate to anything with their school's logo on it.
Joyce has done so well with his dental-care products that he has made the company his full-time job. There are plans to expand into Canada and Europe this year.
"It's amazing where a little idea will take you," he said.
Wild for the WuShock
Wichita State's run into the NCAA Tournament's Sweet 16 last spring gave the WuShock mascot plenty of TV time, and it paid off this Christmas at local stores.
"They were our No. 1 seller by far," said Craig Staub, vice president of All Sports, a west Wichita apparel and collectibles store. "They've exceeded our expectations."
The WSU athletic department makes about $15,800 from licensing revenues in an average year.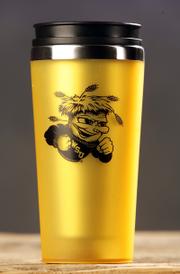 Since July, the department has brought in $42,109 - smashing the previous record of $27,591 in fiscal year 2006. And there's still six months left to build on that total.
"I think Wichita State is the hottest school we have right now," said Joe Sheeley of Licensing Resource Group, a Holland, Mich., company that oversees the use of collegiate logos on merchandise for schools mainly in non-BCS conferences.
When a T-shirt or other item with a college logo is sold, an 8 percent royalty fee is paid to the school. The money goes into the athletic department budget, which has received a healthy boost from the sales so far this year.
"That's probably not a significant number compared to KU and K-State, but it is a significant increase compared to what we've seen over the past few years," WSU senior associate athletic director Brian Pracht said.
Out of the ordinary
Licensing Resource Group is one of two major companies in the field. Kansas and Kansas State use Collegiate Licensing Co., which deals with a majority of the BCS conferences.
Both companies sort through applications from prospective applicants and decide which products to approve.
"If it's something like a T-shirt or cap, we'll approve it," Sheeley said. "If it's something out of the ordinary, like a coffin, we ask the universities for their opinion on that."
One company that has found a niche is Sound Around of Waukegan, Ill., which makes products that play school fight songs on items such as key chains, doorbells and car horns.
It's a mutually beneficial relationship: The schools make money, and their logos help move products. Heath Price, director of CLC's university services division, said there is an effort to enter new markets, such as health and beauty items.
"Over the past few years, a number of licensees have looked back and said, 'We also need to pay attention to the female consumer, who might actually be doing a majority of the shopping, but nobody is appealing to them,"' he said.
While those products help bring in more revenue, clothing is still king in the licensing world. Apparel products account for 63 percent of all sales.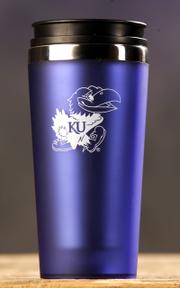 Changes for KU
KU has the biggest share of licensing inside the state. Licensing of the Jayhawk name and mascot brought the school $972,343 during 2006.
Unlike WSU and K-State, KU for many years shared profits from its trademarks between the athletic department, chancellor's office and KU Memorial Unions. That changed in 2006, when the athletic department took over sole responsibility for the logos.
Previously, the chancellor's office received 40 percent of revenues. Now it receives a yearly payment of $400,000, an amount that increases by 5 percent each year.
"It was the administrators' feeling that revenue production was not what they did best," associate athletic director Jim Marchiony said. "It's something we have to do on a daily basis."
The department has taken the gamble that it can increase licensing revenues. If it does, it will win big by not having to share a percentage of the money it takes in.
The quickest way to achieve that success is on the court. An appearance at the Final Four brings in more than $200,000 in additional licensing revenue, and winning the national championship would be even bigger.
"On-field success has a great deal to do with successful licensing," Marchiony said.
Kansas is pursuing other ways of increasing revenue as well. At the start of 2007, the royalty fee to license Jayhawk products increased from 8 percent to 9 percent.
The department also is becoming more vigilant about enforcing its trademarks. Because the name of the school is also the name of the state, there is a gray area on what items with the word "Kansas" endorse the university.
"It depends on what else is on it," Marchiony said. "It depends on where it's sold, and it depends if whoever is selling it is trying to give the impression that this is something that is sponsored by Kansas Athletics."
Marchiony said his biggest concerns were protecting the licensees who pay for access to the logo and protecting the school from merchandise that would reflect poorly on it.
"It's not a black-and-white issue," he said. "It's crimson and blue, and all the other colors."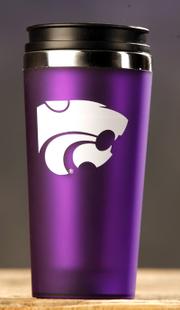 The Huggins brand
When Kansas State hired a new basketball coach, it got more than just a proven winner.
"Bob Huggins is a brand," said associate athletic director Bob Cavello.
He is estimating a 25 to 35 percent spike in merchandise sales this year on the strength of the Huggins name.
While at Cincinnati, Huggins worked to develop a logo for the school that contained a bearcat claw and the letter C. He turned that into the No. 2 national seller for Nike before he left the school. So it's no surprise that Nike was eager to team with the Wildcats when Huggins was hired.
"He comes to a school here at K-State where the Powercat is already a very established, well-recognized logo," Cavello said. "Now he brings the power of retail to the program."
The Huggins name has helped place Kansas State's merchandise in stores beyond the Midwest, which are the traditional K-State markets.
The effort to make the Powercat nationally recognized began well before Huggins' arrival. When Bill Snyder was leading the Wildcats to major bowl games, K-State outsold Kansas on the strength of those postseason appearances.
Now with Huggins on board, the Wildcats again look to overtake the Jayhawks at the cash register.
"He's able to elevate us to the next level with what he brings to the table," Cavello said. "It definitely has a huge, huge impact on sales."
They're not the only ones with aspirations of making it to the next level, as colleges work to turn loyal fans into loyal customers.
Even when they're buying toothbrushes.
Copyright 2018 The Lawrence Journal-World. All rights reserved. This material may not be published, broadcast, rewritten or redistributed. We strive to uphold our values for every story published.