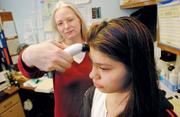 It might start with a single student getting the flu, running a temperature of 104 degrees.
"Then bang, bang, bang - we had about four or five cases all at once," said Vivian Caughey, a school nurse for South Junior High and Broken Arrow schools near 27th and Louisiana streets.
While school health officials say they haven't noticed an overall increase in the Lawrence district, the flu bug has hit about a sixth of South's nearly 600 students, Caughey said.
Along with those who call in sick, each day the nurse at South has been sending home students who are complaining of high fevers, coughing, sneezing and nausea.
"We normally have between 45 and 50 gone each day," Caughey said. "Since flu season started, we're running an average of 100 a day."
Mike Heideman, a communications specialist for the Kansas Department of Health and Environment, said Kansas is one of 24 states where flu is categorized as "widespread" by the Centers for Disease Control and Prevention.
That means flu has been found in more than half of the state, Heideman said.
That's not surprising because January and February are considered to be peak months for flu season, which runs October through March, he said.
Still narrow here
Lawrence hasn't been widely hit by the bug, according to local health officials.
Kansas University's Watkins Memorial Health Center is seeing a typical number of cases for this time of year.
"There's not been a lot, around a dozen cases in the last two weeks," said Mai Do, marketing coordinator for student health services.
Lawrence Memorial Hospital hasn't seen more than the usual number of flu cases, according to Belinda Rehmer, LMH communications coordinator.
Overall, the flu hasn't hit most of Lawrence's schools that hard, according to Sonja Gaumer, nursing services facilitator for the district.
"We're definitely seeing some flu. It seems to be lasting about 48 hours per student," Gaumer said.
Last week, the district was averaging between 500 to 550 students out sick, out of 10,300 students.
"That's not really bad for our total population," she said.
South hit hardest
The largest number of flu cases seemed to be at South. Caughey said South had about 120 students out on peak flu day last week. Caughey anticipates more cases this week at Broken Arrow.
"You can expect to see it for another three weeks," she predicted.
Some South students were trying to return to school too early, she said. So she decided to send them back home if they were running a fever of 100-plus degrees and still coughing - because they could be passing it to others.
Caughey said students are contagious one to three days before they show symptoms of sneezing, coughing and a fever, plus three to five days after that.
Over at West Junior High School, where there are 580 students, about 20 to 50 students have been absent each day because of the flu.
"Yes, we've been fairly high. But I wouldn't call it an outbreak," said Cindy Gress, school nurse.
The flu virus hadn't hit Central Junior High School yet, according to Rebecca Mason, Central's attendance secretary. That's also the case at Southwest Junior High School, according to Mikki Thomas, school nurse.
Lawrence High School also has seen some flu.
"I don't think it's as bad as past years, and I've been here an awfully long time," said LHS nurse Cindy Murray.
And the duration of the flu is shorter than usual.
"The kids have a headache and they're dizzy," Murray said. "And some of them are nauseous and have the GI symptoms. But they're usually back within two to three days. There have been some that have been out for a week or so."
Julie Boyle, the district's communications director, said absences among teachers weren't alarmingly high.
"We had about 50 staff call in sick today, which is a little higher than a 'normal' day but isn't unusually high for flu season," she said.
Copyright 2018 The Lawrence Journal-World. All rights reserved. This material may not be published, broadcast, rewritten or redistributed. We strive to uphold our values for every story published.