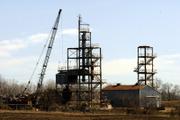 Work is under way to turn a former rocket-fuel plant into a repository for leftovers from the coal-burning Lawrence Energy Center.
Contractors hired by Westar Energy are busy clearing portions of the site of the former Callery Chemical Co., along North Iowa Street at Lakeview Road. The demolition will be expected to continue for another couple of weeks, then allow for installation of infrastructure necessary to make the place a landfill for loads of fly ash, scrubber sludge and bottom ash from the nearby electricity-generating plant.
The site has been inactive for nearly 50 years. Callery had produced boron-based rocket fuel on the site for the Department of Defense, and the operation lasted only two or three years, said Tom Brown, who works in the environmental services group at Westar.
Some of the site's laboratory buildings will be retained, at least for a while, Brown said; the remainder of the plant will be razed.
The landfill should be ready to accept byproducts from the energy center by early next year, Brown said.
"We'll have an estimated life's use of a minimum of 30 years," he said.
Copyright 2018 The Lawrence Journal-World. All rights reserved. This material may not be published, broadcast, rewritten or redistributed. We strive to uphold our values for every story published.