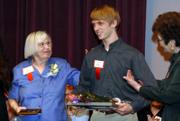 She's known as a great ambassador for the Kansas Audio-Reader Network.
And with her British accent, Eleanor Symons sounds like a foreign dignitary.
Since 1971, Symons has volunteered more than 15,000 hours to the Audio-Reader Network, reading news and books to those who are blind or unable to read because of a disability.
"I enjoy reading aloud and also helping people who otherwise would be unable to experience" reading novels or newspapers, she said.
Symons - a retired Kansas University libraries employee who moved to Lawrence more than 50 years ago from England - was honored by the United Way of Douglas County and the Roger Hill Volunteer Center as the adult winner of the Wallace Galluzzi Outstanding Volunteer Award on Thursday evening at the Lawrence Arts Center.
"I wasn't expecting this at all. There were so many good people" who were nominated, Symons said.
Staff members at Audio-Reader were enthusiastic after learning the news. Symons is known as the first Audio-Reader volunteer, who made recordings before the service was on the air. Even though her car broke down more than two years ago, Symons said she continues to ride the bus to volunteer about two days per week.
"It speaks to her character that she helped start this service and she is such a vital part of it," said Jennifer Nigro, coordinator for volunteers at Audio-Reader.
Justin Esau, a Bishop Seabury Academy senior, won the youth volunteer Galluzzi award.
Esau, president of the school's Student Senate, organized a food drive where he and 10 other students slept outside the school in boxes during a November night. They collected and donated 5,000 cans of food to The Salvation Army and Trinity Episcopal food pantries.
Esau said he was humbled and honored to be on stage with the adult volunteers.
"It's pretty impressive to see just what everybody is doing in the community," he said.
Bill Gollier, a Seabury instructor and student senate adviser, said Esau had used his leadership and communication skills when he organized the project.
"He's just got a sense about him that he will do anything to help you that he can," Gollier said.
Seventeen other Douglas County volunteers were honored for their Galluzzi award nominations. Christine Caffey, a Salvation Army volunteer, and Sierra Dickson, who volunteers with Corpus Christi Catholic Church, also were nominated for the youth Galluzzi award.
The awards are named for Wallace Galluzzi, a former Haskell Indian Nations University president.
Copyright 2018 The Lawrence Journal-World. All rights reserved. This material may not be published, broadcast, rewritten or redistributed. We strive to uphold our values for every story published.