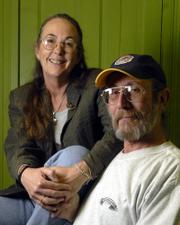 There's a good reason why Alan Johnson will reaffirm his marriage vows to his wife, Terri Wilson, at this year's St. Patrick's Day Parade in Lawrence.
The couple were married during the first St. Patrick's Day Parade in 1988.
Johnson remembers that inaugural event as a much smaller version of the parade and one that endured slight snowfall.
"It was convenient, kind of cool and seemed like an almost semi-radical solution to a natural consequence," Johnson said.
This year, the couple's reaffirmation of vows will be a small part of the 20th annual St. Patrick's Day Parade in Lawrence on March 17.
Gene Shaughnessy, co-chairman of the parade, anticipates that this year's parade, which falls on a Saturday for the first time since 2001, will be larger than those of previous years.
He said he expects as many as 100 entries for the parade.
Ford Motor Co. Chief Executiv Officer and Lawrence native Alan Mulally will serve as the parade's grand marshal.
This year's parade will feature a military aircraft flyover from the 190th Air Refueling Wing, located in Topeka.
"We had to go through the Pentagon to make it happen. With everything going on in the current times, we thought it would be a good idea to show our support," Shaughnessy said. "I guess basically you could say it's a sign of support without taking one side or the other."
The flyover will take place at 1 p.m. the day of the parade.
Parade organizers have other activities planned before March 17. One is the annual charity auction, scheduled for 6 p.m. March 3 at Liberty Hall, 642 Mass.
This year's beneficiaries of parade events are O'Connell Youth Ranch, the Strategic Education Center and Operation Kindergarten. In years past, more than $385,000 has been raised for local charities.
Other fundraising events this year include:
¢ Dart tournament and chili cook-off at Red Lyon, 944 Mass., on Saturday. The dart tournament starts at 12:30 p.m.; the chili cook-off starts at 2 p.m.
¢ Irish Pub Quiz at 7 p.m. Sunday at the 23rd Street Brewery, 3512 Clinton Parkway.
¢ 5K Shamrock Shuffle at 7 a.m. March 10, beginning at Johnny's Tavern, 401 N. Second St.
¢ Luck-of-the-Irish Poker Run at noon March 10 at Slow Ride Roadhouse, 1350 N. Third St.
The coronation of this year's queen will be at 7 p.m. March 11 at the Flamingo Club, 501 N. Ninth St.
Copyright 2018 The Lawrence Journal-World. All rights reserved. This material may not be published, broadcast, rewritten or redistributed. We strive to uphold our values for every story published.