A lot can, and will, happen between now and March 11 - date of the NCAA Tournament Selection Sunday show on CBS.
Yet as of today - with three games remaining in the regular season and one to three games to be played in the Big 12 Tournament - Kansas University's postseason fate appears clear, at least according to three bracketologists.
ESPN.com's Joe Lunardi, SportingNews.com's Mike DeCourcy and cbssportsline.com's Gary Parrish all have tapped 24-4 KU as a solid No. 2 seed.
DeCourcy, who will appear as an online chat guest on kusports.com at 3:30 p.m. March 2, sees no scenario that would grant the Jayhawks a top seed.
"No matter what Kansas does from here until Selection Sunday, it will not build a resume comparable to the other teams competing for a No. 1 seed," wrote DeCourcy, aware KU (24-4) would finish 30-4 by winning out.
"The Jayhawks can write a best-selling novel, invent a new wonder drug, volunteer at the local 'Y' and maybe even beat Texas A&M; in the Big 12 championship game, but the committee still will find them lacking by comparison."
His reasoning is KU's 3-2 record against top-50 teams in the RPI with one top foe left on the regular-season schedule: Texas.
"The Jayhawks have a single top-25 (RPI) victory. That's ordinarily what might happen to you if you're a great team stuck in Conference USA. The Jayhawks still are in the Big 12, which isn't helping them much this season," DeCourcy wrote.
DeCourcy's No. 1 seeds are Florida, North Carolina, Ohio State and UCLA. His No. 2s: KU, Memphis, Texas A&M; and Wisconsin.
Lunardi's No. 1 seeds: UCLA, Florida, North Carolina and Wisconsin. His No. 2s: KU, Ohio State, Texas A&M; and Pittsburgh.
Parrish's No. 1 seeds: North Carolina, UCLA, Wisconsin and Florida. His No. 2s: KU, Washington State, Texas A&M; and Ohio State.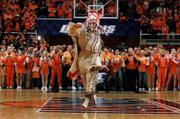 ESPN's Jay Bilas, meanwhile, merely listed six teams head and shoulders above the rest.
"Florida, North Carolina, UCLA, Wisconsin, Ohio State and Kansas. It is always difficult to separate teams, but that is the way I see it," he wrote in an online chat on ESPN.com. "I think that KU could be this year's Florida. The Jayhawks remind me of the Gators last season. Did the Gators have a go-to guy last year? KU can win it all this season. That would not surprise me one bit."
He was asked on the chat to rank KU freshman Sherron Collins with other freshmen point guards in the country.
"Right up there. I would say that Ty Lawson (North Carolina), D.J. Augustin (Texas), and Mike Conley (Ohio State) are just a hair in front of him. But, Collins could easily be a starter for KU."
¢Reed excels: KU coach Bill Self was on hand to watch signee Tyrel Reed of Burlington score 25 points in Tuesday's 71-53 victory over Yates Center in Burlington's gym. Reed, a 6-foot-3, 180-pound guard, hit 17 of 21 free throws in the game. He had two three-pointers and one two-pointer.
¢Recruiting: KU assistant Joe Dooley watched 6-8 junior prospect Romero Osby of Northeast Lauderdale High (Meridan, Miss.) score 27 points and grab 15 boards in an 80-59 win over Shannon on Tuesday.
The 230-pound small forward tells rivals.com he is considering KU, Mississippi, Mississippi State, Tennessee, Alabama, Florida State, Kansas State, Arkansas, Texas, Texas A&M;, UCLA and others.
¢Illini retire Chief: Chief Illniwek, the University of Illinois' Native American mascot, performed his last halftime dance Wednesday in Champaign, Ill. The university has decided to retire the chief after 81 years of dancing in war paint and feathered headdresses.
Illinois, as a result, which had been under an NCAA penalty for using the chief, now will be allowed to play host to postseason NCAA events.
The mascot debuted in a homemade American Indian costume during an Illini football game in 1926. During the last two decades there's been a push to retire the chief, with many Illini fans adamant about continuing the tradition.
Former Illini coach Bill Self recently expressed his opinion on the matter to the Journal-World.
"The Chief at Illinois was thought of to be the symbol of the university, and there was a great history and tradition behind that," he said. "The different chiefs throughout time had to uphold a strict code on behavior and study the tradition and history of what that (chief) stands for. It was done in a respectful manner, but it was still controversial.
"I always thought they handled it in a very respectful manner. I could also certainly understand how some would feel about that. Most, I think, is not done with poor intentions, but some of it may be done in poor taste, so it is probably a good rule (to ban it)."
Self's official stance on the mascot during his three years at Illinois was ... "I was neutral on it. I was a big fan of the chief, but I could certainly understand how some would be opposed."
Copyright 2018 The Lawrence Journal-World. All rights reserved. This material may not be published, broadcast, rewritten or redistributed. We strive to uphold our values for every story published.