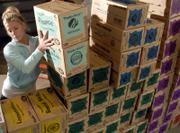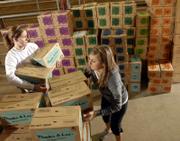 The flow of cookies into cars is typically a smooth one for Girl Scout cookie masters.
Drive into the tin-roofed building at the Douglas County 4-H Fairgrounds, and one of a typical 100-or-so volunteers would load cases of Thin Mints or Caramel deLites into the backs of minivans and SUVs.
"It's like a one-stop, drive-through kind of thing," Girl Scout Cookie coordinator Kris Moyer explained.
But on Monday, the annual Girl Scout Cookie drop-off day for local troops didn't go as smoothly as it could have.
Only a handful of volunteers showed up to help troop leaders and cookie masters - moms in charge of picking up and distributing the more than 77,000 boxes - load cases into cars.
"I'm thinking there was a communication error," Moyer said.
By about 4 p.m., generally considered peak loading time, eight members of Kansas University sororities and fraternities shuffled dollies around the Horse Arena's dirt floor.
Aside from a little stress, Moyer said, everyone got their shortbreads in fairly short order.
At the entrance to the Horse Arena, cookie official Cathy Gard pulled up in a black SUV, a child peering out of the back seat window.
"We don't have a whole lot of people here," Moyer told Gard. Moyer informed the child, "We're going to recruit your help."
But Gard got there early, so the handful of Kappa Kappa Gamma and Alpha Gamma Delta sorority volunteers helped load her order for Troop 531. Now, the cookies can, at least for a few days, stack up in the corners of her home.
Too much of a temptation?
"Nah," Gard said.
But Carol Casteel, the cookie master for Troop 723, said that boxes of chocolatey, peanut-buttery snacks can prove too tempting for her.
"They're not going to be at my house," Casteel said.
Casteel said her troop gathered orders for 53 cases - mostly by asking door-to-door in last month's frigid cold.
Moyer said that 65 troops picked up cookies from the Horse Arena on Monday, and by late afternoon, almost every case was on its way to a scout mom's home.
Copyright 2018 The Lawrence Journal-World. All rights reserved. This material may not be published, broadcast, rewritten or redistributed. We strive to uphold our values for every story published.